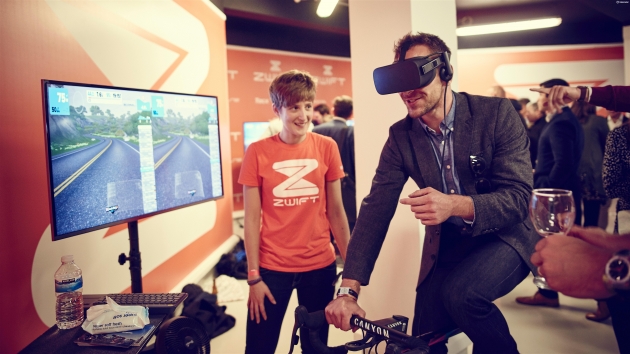 There was a time when indoor training meant pedaling furiously while staring at a blank wall – but virtual cycling has given a shot in the arm to the tedious business of cycling indoors.
The Zwift experience has been available to PC and Mac users since fall 2015, but this week it will launch for iOS so users can access it through an iPhone or iPad via Bluetooth connectivity. The iOS Beta program has already been available to the Zwift community since September, but now it will launch as a full subscription service for $10 a month, which is consistent with pricing for Mac and PC users. This is a huge step for Zwift in terms of making the program more accessible and portable now that it doesn't necessitate an unwieldy laptop or TV setup. Greg Fisher with Zwift's PR team says a version for Android is in the works, as well.
The most exciting future development for the platform is the virtual reality. While the program is still in the early stages of development, Zwift brought VR headsets to their iOS launch event so that users could try a prototype version of the experience.
A lot of development work has already gone into making a portion of the Zwift world three-dimensional and VR-friendly. Virtual reality will certainly never replicate the magic of riding outdoors, but it will be a cool ride sensation and far more engaging than any other trainer experience.
If any of this has made you Zwift-curious, we're just about to enter into the best time of year to give the service a try. To get started, you just need your bike, a trainer, a wireless connection, and a Zwift trial subscription.