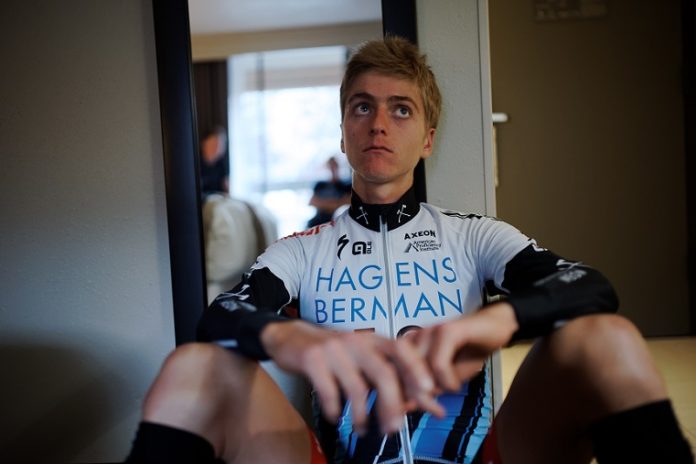 Young American talent Adrien Costa took a break from racing in 2017 to focus on personal development, but has now decided to give up his place on the Hagens Berman Axeon team. 
The California native cited fatigue as the reason behind him leaving the team on hiatus in July 2017. While he is considered to be one of American cycling's brightest young talents, he had concerns that training and racing had taken over his life to an unhealthy degree.
Costa took time off to travel, work outside of cycling, and consider his education options. Despite originally planning to be back in the peloton for 2018, he has now decided to stay away from racing.
The 20-year-old concluded it unfair to remain on the team without being certain that he could give 100% to himself and to fellow teammates and staff, and as such, will be relinquishing his spot on the team.
"I'm just not ready to come back yet," said Costa. "The more I thought about it, the more I realized I didn't want to hold a spot on the team when that meant denying someone else of the opportunity.
"Since I stopped racing in April 2017, I've learned a lot about myself and realized how big, and unbalanced, of a part of me was cycling.
"I knew that if I was going to race again, it'd be in a much different, more relaxed way. I wasn't able anymore to have the single-minded, razor-sharp focus for training and racing that I once woke up with daily. I knew I had to lean on other things in life to provide me more balance and more happiness overall.
"After some time back in the US, I've been travelling and working in France, allowing myself to explore my other interests while also getting back to the basic joy of riding a bike for pleasure.
"When it came to thinking about racing, however, I could tell my heart was not 100% in it. And cycling is such a hard sport that there's no faking it when that's the case. So as our Axeon team camp draws near, I realized that the team deserved more than a half-assed version of me. I decided that I didn't want to take a much more deserving, much more motivated individual's place in the team, and that I didn't want to be paid to race mediocrely in just a few events in 2018.
"This upcoming year I'm extremely excited for what's ahead. I will return to Oregon State University to finish my studies in Outdoor Leadership and Tourism, perhaps minoring in psychology along the way. I will always love being outside; hiking, skiing, rock climbing, and cycling- road and mountain- and I don't want that pure passion and love for it to get spoiled.
"I'm also looking forward to seeing what kind of amazing races the Axeon boys will have this year. The group is as dynamic, motivated, and strong as ever, and I've no doubt of their successes this season.
"I really want to take a moment to thank Axel and the rest of the staff on Axeon from the bottom of my heart. Truly, I do not feel deserving of their generosity, their understanding, and their flexibility in this period, and for that I'm forever grateful and hope to someday be able to give back to this amazing program.
"I look forward to still spending some time on my bike, catching up with friends new and old, and keeping it fun. Who knows that the future will hold; as I've come to learn, anything is possible."