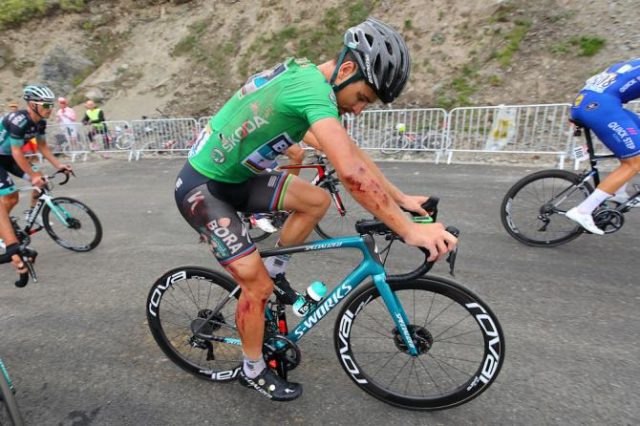 Peter Sagan managed to finish the 17th stage of the Tour de France with the support of his teammates despite suffering a heavy crash during a brutal 65-kilometre ride from Bagneres-de-Luchon to Saint-Lary-Soulan.
The Bora-Hansgrohe rider  crashed on the descent of Col de Val Louron-Azet, the second of three climbs on the short stage.
"I crashed in a turn – in the corner I made a mistake," Sagan said. "I was braking but it was not enough. I flew in to the forest and I hit a big rock with my arse.
"For sure I'm injured but it could be worse. I think I have some scratches and I hit my muscle on my arse. I hope it's going to be better in one or two days."
The teammates of the world champion helped him to get to the summit finish on time, where he was seen with a broken shirt and blood on some parts of his body.
"After further examinations, no fractures have been reported," said Bora-hansgrohe in a press release. "Peter suffers from heavy abrasions and some bruises on his right side. A final decision about taking on stage 18 tomorrow will be taken from the team tomorrow morning."
Sagan later posted on social media that he had not broken any bones and intended to continue the Tour, writing, "That was a hard crash but, fortunately, I haven't broken anything and I feel confident about the last four stages of Le Tour de France."