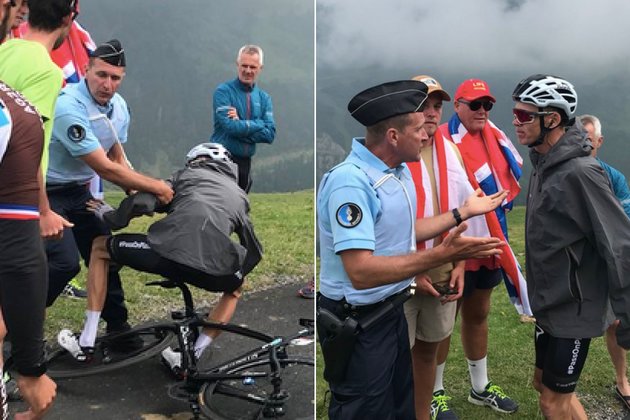 Defending champion Chris Froome almost crashed out of the Tour de France after being knocked off his bike when an overzealous policeman mistook him for a fan after stage 17.
The Briton had put on his rainjacket and was cycling back to the Team Sky bus when a policeman on the side of the road mistakenly took him for one of the thousands of cycling fans. He tried to get Froome to stop and in the confusion the six-time Grand Tour champion crashed.
Gendarme trekt Froome van fiets in afdaling na de finish. Dacht dat het een toerist was die naar beneden ging… pic.twitter.com/3oEByf9fhR

— Raymond Kerckhoffs (@raykerckhoffs) July 25, 2018
He avoided injury and is set to start stage 18 on Thursday.
"It was a misunderstanding. Chris is fine," said a Team Sky spokesman.
Froome, who had been aiming for a fourth consecutive Grand Tour victory after triumphing at the Vuelta a Espana last year and this year's Giro d'Italia, is now in a battle for a podium place.
Team boss Dave Brailsford said they will now plan to make sure Froome joins Thomas on the Tour de France podium: "He's not out of it necessariy, there's a big mountain day to come, and the time trial.
"We'll sit down tonight, review everything, see how everybody feels then make our plan of attack."