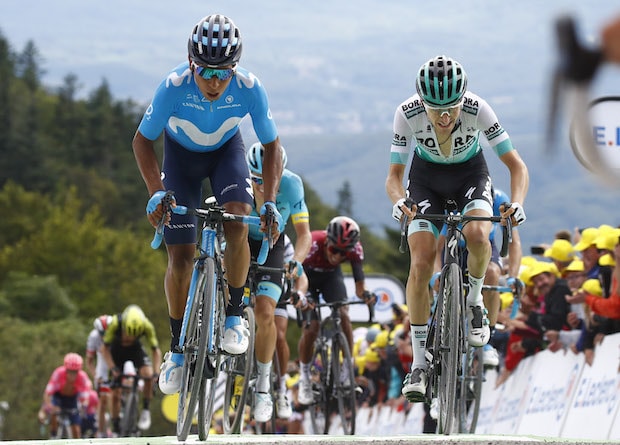 Mikel Landa looked set to reward the earlier peloton-driving efforts of his Movistar team mates three kilometres from the finish of stage 6 but came unstuck a couple of kilometres later.
The other co-leader of Movistar, Nairo Quintana, crossed the finish line one minute and 53 seconds behind the winner of the stage Giulio Ciccone and lost seven seconds to Geraint Thomas -one of his direct rivals.
"Today we did a great job with the team and at the end, we sort of fulfilled our goal, which was also not losing time," said Quintana at the finish line.
"This kind of finales are very hard for us. We are climbers, but this kind of very steep climbs is difficult for us. The first day of the mountain is hard until the legs adapt again to it.
"It is was very difficult to open any gaps, the rivals are still very strong and fresh. We have to see how that develops as the days pass."
"It was the first mountain stage, I had good legs and wanted to confirm those feelings, see if our rivals would like to pick up the pace, too" added Mikel Landa.
"Yet in such a finish, with those tough final slopes, everyone is always keeping some energy for the end and it was also tough to open real gaps. The feeling after the stage is good: even if Thomas put a couple of seconds on us, I'm right where I wanted to be at this point of the race, and I think we can tackle the next mountain stages with good hopes."