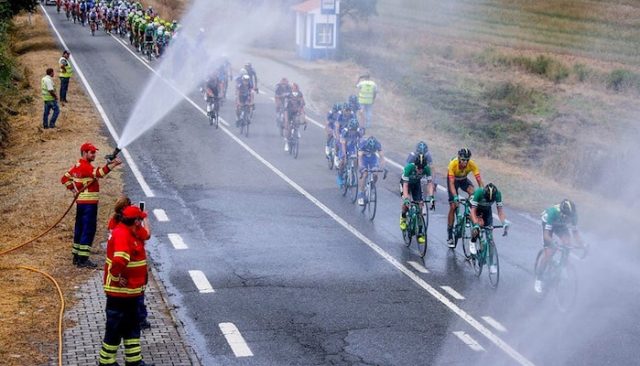 Volta a Portugal kicked off on Wednesday with temperatures reaching a claimed 45°C on Thursday.
Portuguese rider Joaquim Silva (Caja Rural–Seguros RGA) was forced to retire during the 203 kilometre stage  after the heat left the rider severely dehydrated and dizzy.
Fire trucks periodically sprayed water on the peloton throughout the stage as temperatures continued to hover around 45ºC.
The temperatures look like they aren't going to abet though with the heat expected to reach as high as 50ºC today but race organisers have yet to invoke extreme weather protocol.
In 2016, the UCI introduced its 'extreme weather protocol' which outlines an action plan to be carried out in the event of 'extreme weather', with 'extreme temperatures' included.
The protocol applies to WorldTour and HC events – but as a UCI 2.1 ranked stage race, the Volta a Portugal is not included.