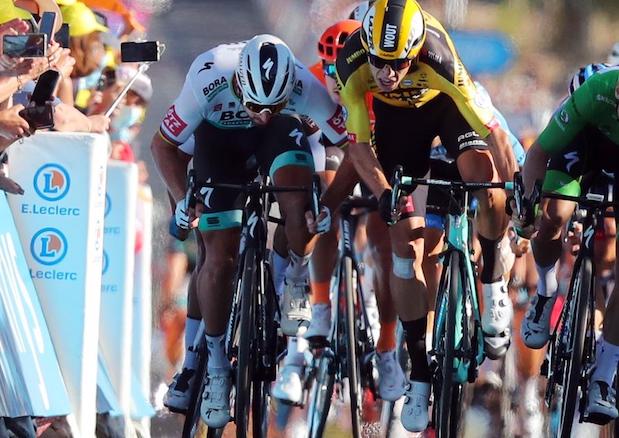 Peter Sagan leant a shoulder into Wout van Aert during the final sprint in stage 11 of the Tour de France and the former world champion was dropped to last place in the group for dangerous riding after initially finishing second.
Van Aert krijgt duw van Sagan in de sprint, Ewan wint nipt pic.twitter.com/hchO6qtFuR

— Sporza 🚴 (@sporza_koers) September 9, 2020
Speaking after the stage Wout Van Aert said: "In my opinion, I sprinted in a completely straight line, I started complete on the right on the barriers, and he just tried to create space for himself, and for me, he's not allowed to do that. I think it's already dangerous enough.
"I was really surprised and shocked at the moment I felt something. I was making a maximum effort, so I was really scared."
"[I was] so shocked and angry I didn't use a very nice word," he said about his discussion with Sagan after the stage. "Afterwards I tried to say to him that it [a sprint] isn't done like that and I didn't like what he was doing. The only thing that came back was strong words, so it was hard to have a conversation."
"That's a weird way of thinking, there wasn't a gap. And if you use your elbows to create one, that's completely against the rules. It's not reasonable, and it's not done."