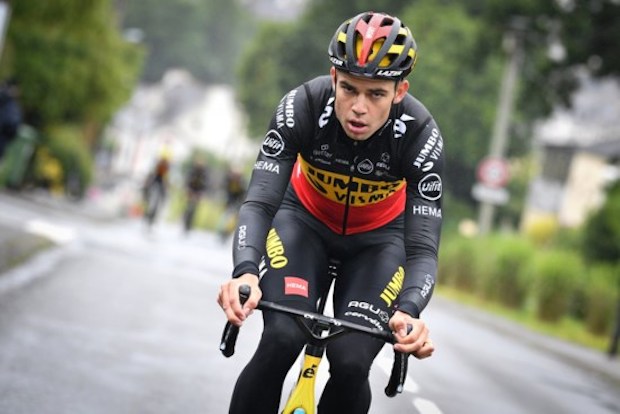 Wout van Aert confirmed in a video message posted by his Jumbo-Visma team that he will not race Tour of Flanders on Sunday.
"It's been two hectic days," the Belgian stated. "Yesterday morning I woke up with a sore throat and two quick tests indicated that I was positive for COVID-19. Two PCR tests confirmed it, so there is no chance that I will be at the start on Sunday."
"The good news is that I only have mild symptoms, a sore throat and a mild cold. It strengthens my hope that I will recover and get back into action soon."
"It's a mystery where I've picked up this infection I've put in a lot of effort to avoid over the past two years, particularly in the last weeks and months. Of course, we were exposed before, during and after races, like last weekend. Evidently I can't control it. It catches me at the worst possible moment."
"I will focus on my further recovery in the upcoming days before I think about the future again. On Sunday, I will be the biggest fan of my teammates during 'De Hoogmis'.
"Thanks to everyone for the big support message the last few days. Reading them gave me a lot of pleasure. That's why I thought it was important to hear from me. And hopefully I will see you soon."
After Jumbo-Visma's dominant performances this spring, this absence comes as a big blow to the aspirations in Flanders. Tiesj Benoot and Christophe Laporte make for a very strong duo with ambitions that can still be guided towards a possible win, but the team is no longer the big favorite.