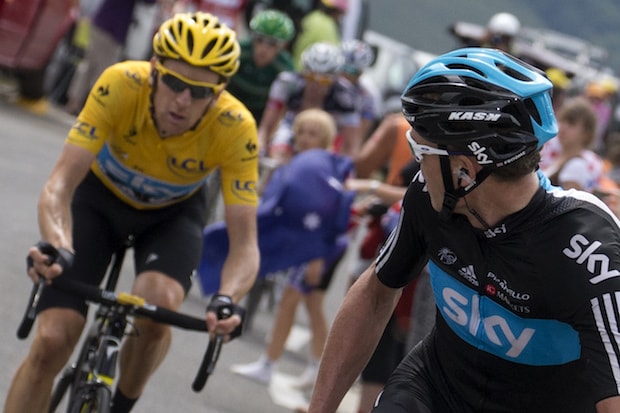 Speaking on his podcast, The Bradley Wiggins Show by Eurosport, Bradley Wiggins was responding to recent comments by Froome.
The current Team Sky leader said he felt he couldn't trust Wiggins in the 2012 Tour de France, after he had collapsed in the Vuelta a Espana the previous season.
"There were definitely a couple of moments where I thought 'right I'm going to go for it now,'" said Froome to Nico Rosberg on the former F1 driver's podcast. "But the team orders and the guys calling the shots in the car were straight onto me and called me back."
"The difficult part for me was trusting him as the leader, given that in the last big race, the Vuelta a Espana, I'd gone there to support him and he fell apart in the last few days. The team turned to me and said 'right now you have to try and win it'. Going into the Tour de France I had this in my mind. I was thinking 'I'm doing a job for this guy, but if he falls apart in the last few days I need to be in the position to take over again.'"
"I wish he had told me," Wiggins said. "That is Chris's opinion and as I've spoken about in the last few weeks here, that's the world we are all in. Maybe I wasn't the best communicator at the time. The year I'd had a bad couple of days towards the end of the Vuelta: I'd broken a collarbone six weeks earlier, still had a plate in, I couldn't really get out of the saddle properly. I didn't expect to be in that position.
"And to be honest, if Chris is being honest as well, he didn't expect to be. He couldn't scratch his arse before that point and found himself second in the Vuelta with a week to go.
"So I think that's the way teams work. It's all a bit incestuous and no one really communicates. I will be the first to admit I wasn't the best team leader in the world so communication wasn't my strong point, and we found ourselves second and third going into the last couple of days of the Vuelta Espana and it was the point for him which leaped his career forward and gave him the confidence to do what he did.
"But as I say, I'm not going to sit here and slag him off because I think he's a great athlete and this, that and the other, but that is the world you are in at that time and I take responsibility for it, but it is what it is."