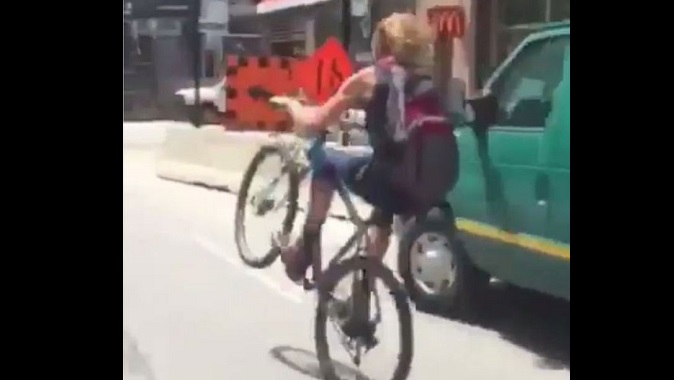 Toronto police say they may lay charges against a cyclist who posted a video to Instagram in which he is seens popping a wheelie and weaving in and out of traffic.
The video shows a cyclist on a mountain bike sustaining wheelies while weaving between cars, riding on the wrong side of the road and sidewalk, and running a red light.
"We've already identified who the person is. We've already identified the location. We're now just looking for the date and time — this is where we need a witness to come forward in order to lay charges," said Const. Clint Stibbe.
Police could charge the cyclist with careless driving, which could result in a fine of up to $2,000. Despite the condemnation of police, the cyclist defended his actions on Instagram, where he called the allegations "heartbreaking."
"I never crashed, I never hit anyone, and didn't commit any sort of hit & run. I never even made / make anyone slow down, hit their brakes or cause them to pull last second maneuvers," he wrote.
The cyclist did admit, however, that his biking could be considered "a little dangerous," but that he is an expert and that he has never been in an accident in Toronto.