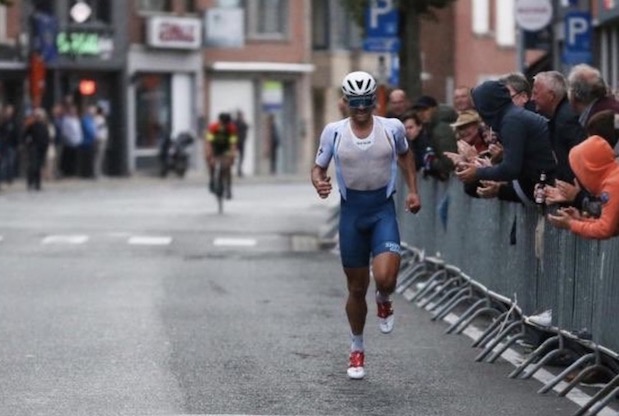 American cyclist Eamon Lucas came in 10th place in the 2019 the edition of Gullegem Kermesse despite having to sprint for the line on foot after crashing in the final kilometre.
Lucas was in a breakaway when he crashed. His bike wasn't rideable and he had no chance of getting a quick replacement. So rather than see a top 10 slip by after a hard race, he ran to the finish line.
https://twitter.com/RomaricCapoen1/status/1137333631372931072?ref_src=twsrc%5Etfw%7Ctwcamp%5Etweetembed%7Ctwterm%5E1137333631372931072&ref_url=http%3A%2F%2Fwww.stickybottle.com%2Flatest-news%2Feamon-lucas-cyclist-running-belgium%2F
His running was reminiscent of Chris Froome running up a section of Mont Ventoux in the Tour in 2016 when his bike broke due to a crash.
"I went through a gap of riders because there was no one taking initiative in the sprint," said Eamon Lucas. "Everyone is watching everyone. Around 50m or so before the chicane I was third wheel. Before I knew it my bike was out from underneath me my left leg was on clipped and trying to hold myself up but there was no coming back.
"I was on the ground and sliding on my back thinking to myself, 'This is not where you want to be!' I watch the breakaway passed me as I came to a stop. I stood up immediately and tried to get back on my bike because I knew I still have 30 or so seconds gap to the chasing peloton. My only thought was 'I can still get a result I can still place!' Jump on my bike but my derailleur and chain we're a mess. No time to fix it so I handed my bike to a spectator and started to run as fast as I possibly could. Rounding the last sweeping band I saw the finish line. It was the longest 75 m of my life. My legs are on fire from the lactic acid and at that point time I wanted to cross the finish line so bad for the resort it wasn't even funny."