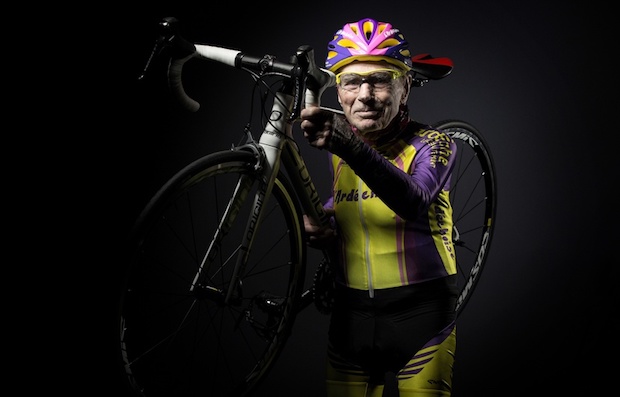 Centenarian cyclist Robert Marchand has donned his lycra shorts again and rode cautiously around France's indoor Velodrome National, becoming by far the oldest person to take a spin on the circuit.
Marchand, who in 2012 set a world record for a 100-year-old when he cycled 15 miles (24km) in an hour, turns 107 next month and was supposed to have retired in January.
But after more than 90 years in the saddle he insisted on hopping on his bike again, despite medical concerns about the potential strain on his heart.
Decked out in bright yellow-and-purple lycra shorts with a matching crash-helmet and dark sunglasses, Marchand needed some help getting on the bike, struggling to lift his leg over the saddle.
But once seated he was away, trundling around the track at a slow but smooth pace, followed closely by a support rider.
"Even at this age, you can do something," he said afterwards, enjoying the congratulations of friends. "I try to do a little bit of exercise every day, even if it's just 20 minutes,".
"One mustn't let oneself go soft. The day you just sit in your armchair and stop moving, you're screwed."
After completing a few more circuits, Marchand was given a gold medal and a commemorative jersey.
Asked for the secret of his longevity, he was to the point: "Use everything and abuse nothing," he said.