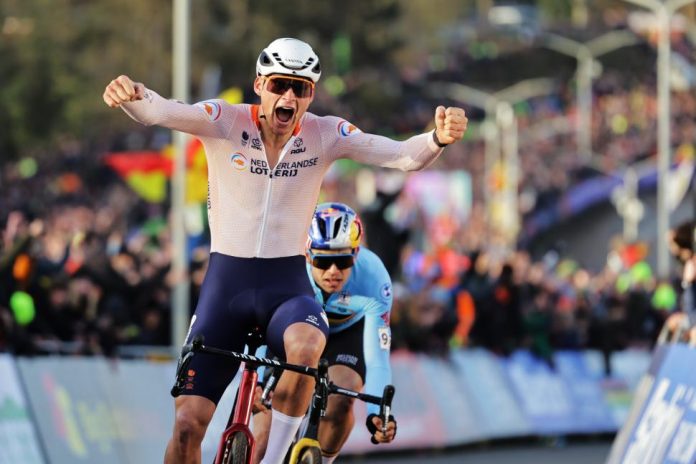 Mathieu van der Poel came out on top in his heavyweight showdown with arch-rival Wout Van Aert to claim a fifth cyclo-cross world championship on Sunday.
Van der Poel rated the triumph, on a track designed by his father Adrie, as "one of the top three moments of my career".
Van der Poel ended Van Aert's chances of victory in a closing sprint to cap a magnificent three days for Dutch cyclists in front of almost 50,000 home fans at Hoogerheide.
Friday's six-rider relays gold went to the Netherlands with 24 hours later Fem van Empel leading home a Dutch 1-2-3 in the women's title race.
Van der Poel was succeeding Tom Pidcock, who skipped the event to attend a training camp in Spain, preparing for the road racing season.
The Dutchman revelled in the mud, attacking from the first circuit, only allowing compatriot Lars van der Haar a brief spell in command.
The two headline acts Van der Poel and Van Aert had already pulled clear at the business end of the 10 laps of the 3.2 kilometre circuit.
In a thrilling closing duel between the pair on this their 11th cyclocross meeting this season it was Van der Poel who held the ace card. He sprinted clear of Van Aert 120 metres from the line to put a couple of bike lengths between him and his rival.
Van Aert's Belgian compatriot Eli Iserbyt took third, 12 seconds adrift.
Van der Poel said the key to his win was "remaining calm throughout the race".
"We both quickly realised that it was going to be possible to give the other the slip," he added.
Van Aert said he had been convinced "Mathieu was going to try something on before the sprint".
"I was so focused on that scenario I was a little taken aback when it didn't pan out like that," he explained, saying he should have tried sprinting for the line earlier "because you can do that on this circuit".