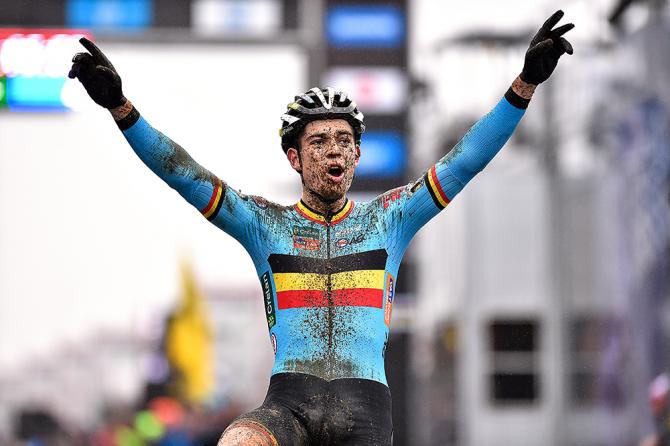 Wout Van Aert (Belgium) defended his world title at the UCI Cyclocross World Championships after a muddy duel with Mathieu van der Poel.
The 2017 Cyclocross World Championships' final race delivered the duel between the sport's top two stars that fans had hoped for, only it was cut short by an untimely Mathieu van der Poel flat far from the pits.
Wout van Aert seized his chance to distance himself from his rival, and rode smoothly to a second-straight World Championship and Belgium's second of the weekend.
"I really didn't expect this," van Aert said. "Last week I went one week without riding, and it seemed like no one believed in me. It was not the best preparation. I just wanted to give full gas for one hour. It was also a pity that bad luck was with Mathieu, but of course I couldn't wait for that. I'm so happy with my second world title."
"I felt physically ready to win. It's not nice to lose by bad luck. This is the biggest disappointment of my career," van der Poel said. "From my first three punctures I could hold my lead, and when I was on the wheel of Wout, I got more confidence. But the last puncture happened too far from the pit lane. The fourth flat tire was too much."
UCI Cyclocross World Championships 2017 – Elite Men results:
| | | |
| --- | --- | --- |
| 1 | Wout Van Aert (Belgium) | 1:02:08 |
| 2 | Mathieu van der Poel (Netherlands) | +44" |
| 3 | Kevin Pauwels (Belgium) | +02'08" |
| 4 | Lars van der Haar (Netherlands) | +02'51" |
| 5 | Corne van Kessel (Netherlands) | +03'08" |
| 6 | Laurens Sweek (Belgium) | +03'28" |
| 7 | Michael Boros (Czech Republic) | +03'46" |
| 8 | Gianni Vermeersch (Belgium) | +04'01" |
| 9 | Simon Zahner (Swizerland) | +04'08" |
| 10 | Sascha Weber (Germany) | +04'28" |