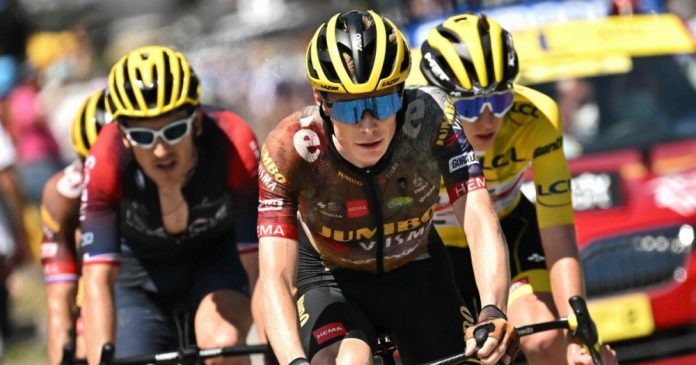 The Tour de France 2022 Stage 17 started with a gloomy cloudy weather as some riders such as Pinot or Quintana were hoping to thrive in the rain. Tadej Pogacar was on his side down to just 3 helpers and things were not looking good…
As the sun and the heat came back, Team UAE Emirates put up the performance of a life time. Breakaways were never given any hope and Bjerg and then McNulty lead a gradually decreasing peloton up until the finish. Jonas Vingegaard's team Jumbo-Visma had no answer to that with the Maillot Jaune satisfied in staying in Pogacar's wheel for the whole  stage. The Slovenian did try to put the Danish rider in difficulty but to no avail.
You can rewatch the whole Tour de France 2022 stage 17 here and can read our stage report here.
The Tour de France 2022 stage 18 preview
The final mountain stage is the hardest of the whole tour. With 3 gigantic climbs, it is considered the Queen Stage.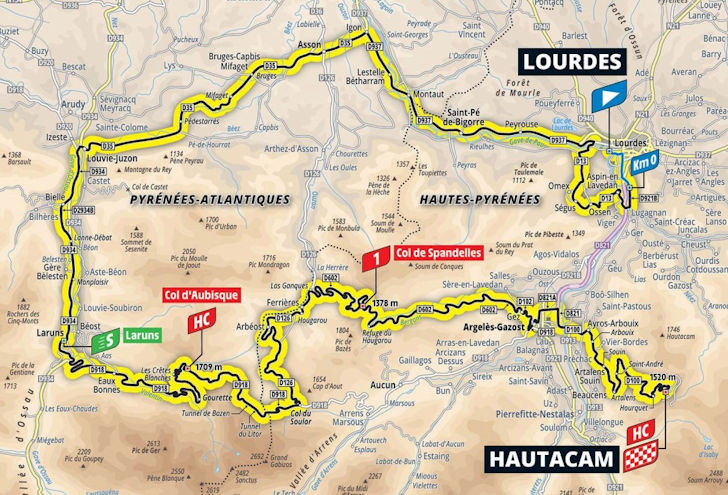 This stage would have gladden a lot of riders and teams who have been seeking glory in this tour. But the manner in which a decimated Team Jumbo Visma and particularly Team UAE Emirates took matter in hand in the previous stage is a serious blow to these hopes. Fatigue is here, and it can be seen with the performances of many riders sneaking in the break. Even those initially in the top 10 like Adam Yates or Thomas Pidcock may suddenly found it hard.
We were waiting for fight in the maillot à pois and Simon Geschke fought valiantly. Neilson Powless failed to make it in the break and Giulio Ciccone is just a shadow of himself. With 50 points distibuted over 3 climbs, Simon Geschke needs to pull all he has left in the first two climbs as his major challengers are now named: Jonas Vingegaard and Tadej Pogacar.
The start of the stage has an unclassified climb of 3 km and hopeful stage winners will need to be on the move and never look back. The continuous effort and drag will be painful. Except for the first three 3 riders in the general classification, all the remaining ones for diverse reasons, will not say no to being in that break. Heavy riders with absolutely no hope of winning the stage would want to have a gap that could keep them safe for the later part and thus staying in time limit.
Team UAE Emirates, Jumbo-Visma and Ineos would relish the idea of having a 'satellite' riders, also forcing the other teams to ride. Some pure climbers like Woods, Verona or convelscent Pierre Rolland  would want to get in with their team-mates and be delivered to a more favourable climbing terrain. Finally, guys like Quintana, Bardet and Gaudu could try an all-in for a possible podium.
Le Col d' Aubisque – HC- (16,4 km at 7.1%)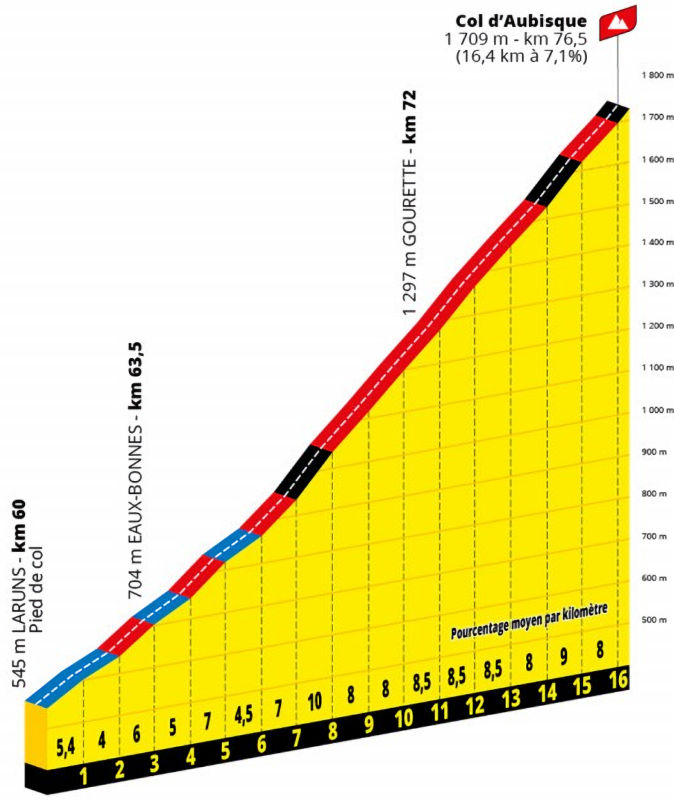 Col de Spandelles – Category 1 – 10.3km at 8.3%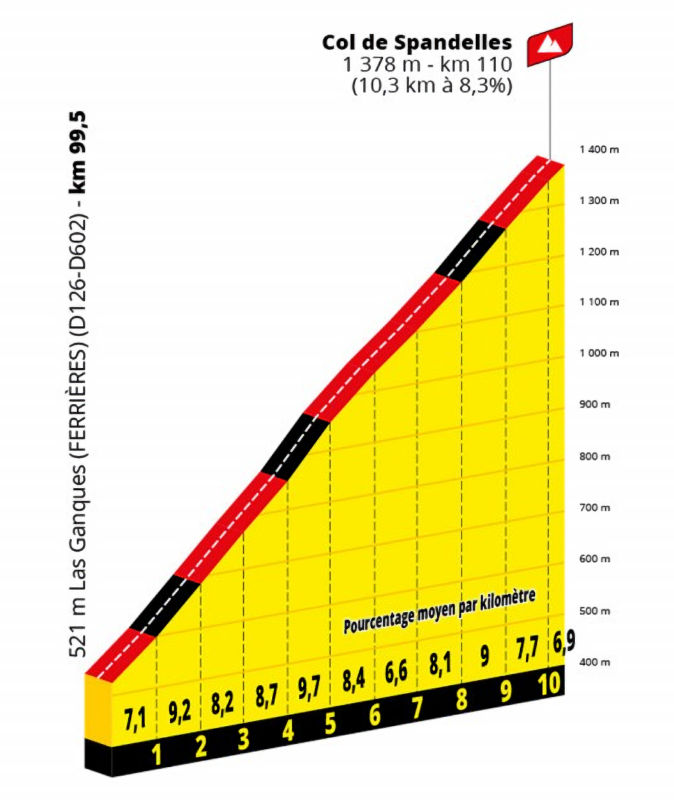 It might be only a first category climb, but the easiest part is in the first km with 7.1%. It only get steeper and steeper. With all of manpower and effort gone in the previous climb, any relapse here cannot be recovered with only one final mountain climb left in the Tour de France 2022.
Hautacam – HC – 13.km at 7.8%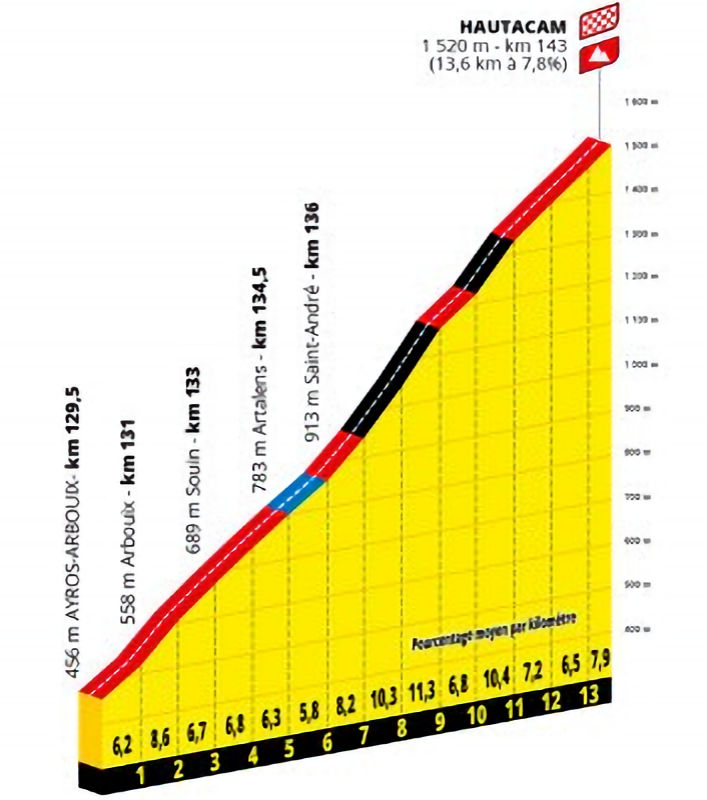 Feared by every single man in the peloton, Hautacam will be the scene of the penultimate show down between the white and yellow jersey. As much as he has tried before, Tadej Pogacar knows that it will take something very special to drop Jonas Vingegaard.
The Tour de France stage 18 predictions
We have seen Pogacar attack Vingegaard on all terrains for the past week but to no avail. Since that lethal attack on the Col du Granon, the current Maillot Jaune has been on the defensive and he feeds on higher altitude and breathtaking gradient. He will have to try and will possibly succeed in breaking Pogacar once more to increase his gap before the final Time Trial.
★☆☆☆☆ Chris Froome 
If he manages to get into the break, he has the form to resist till the end.
★☆☆☆☆ Carlos Verona
An impressive climber who has unfortunately been at the side of leader Enric Mas most of the time
★☆☆☆☆ Enric Mas
12 mins down, he has to get in break and salvage whatever he can
★☆☆☆☆ Bauke Mollema
He has had a very deceptive and anonymous Tour de France To his credit, chances have been spared but he will have to take the maximum out of this stage.
★★☆☆☆ Adam Yates
Despite falling sick, he could have a go and try something from the break
★★☆☆☆ Fred Wright
The young british has been one of the revelation of this Tour. He is a future Grand Tour Stage winner and this could start here.
★★★☆☆ Nairo Quintana ; David Gaudu ; Romain Bardet
All three of them have done pretty better than expected in this tour. They are on fine form and will fancy their chances
★★★★☆ Matteo Jorgenson
The young American joins Fred Wright in the list of the revelation of the Tour. After an impressive ride 2 days ago, he seems to be only getting sharper.
★★★★☆ Nick Schultz
The Australian completed the infernal trio of break through rider in this Tour. He rode with rest of the best on the 17th stage. Should he make it into the break, he will be the best man by far!
★★★★☆ Tadej Pogacar
Not for a lack of effort, he will not be able to drop Vingegaard and the reverse is more likely to happen on the roads to Hautacam,
★★★★★ Jonas Vingegaard
This stage and Tour de France is his to lost. He will have to gradually wear off Pogacar and place an attack way before the finish though.
Cycling.Today Contributors Predictions
| | ★ | ★★ | ★★★ | ★★★★ | ★★★★★ |
| --- | --- | --- | --- | --- | --- |
| CTT | Quintana | Thomas | Pogacar | Vingegaard | Kuss |
| TeoGoals | Quintana | Thomas | Bardet | Vingegaard | Pogacar |
| CC2004 | Bardet | Quintana | Thomas | Pogacar | Vingegaard |
| Mufcfaan | Bardet | Jorgenson | Pogacar | Schultz | Vingegaard |
Make sure to tune as from 1315pm Central Europe, 0715am U.S. Eastern on cycling.today or cyclingstream.com to watch the race free and live with us!

An exclusive post for Cycling today by A LeadOut