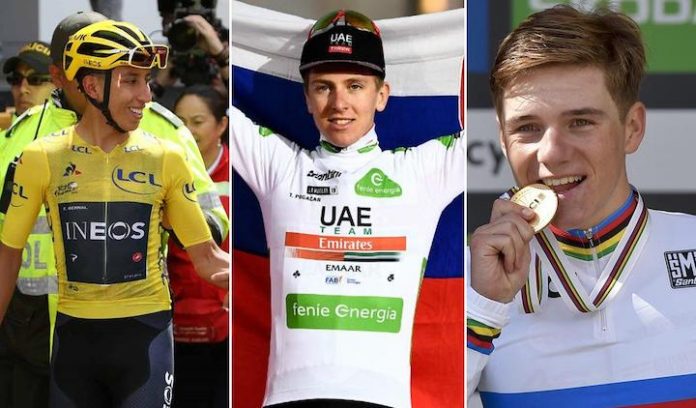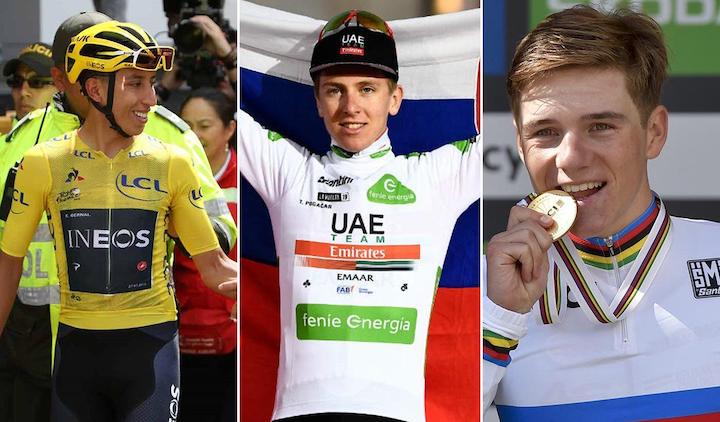 A generation of exciting new talents in cycling has hit the streets, and we are here to provide you with a list of cyclists to watch this next year. The talented cyclists only seem to get younger and younger, so there is a good reason to keep an eye on the youngsters this year.
Tom Pidcock
This 21-year-old from Leeds is definitely one to watch. He is a triple threat, having competed in cyclo-cross, mountain bike and road bicycle racing. This February he will make his debut with INEOS Grenadiers at Tour des Alpes Maritime et du Var, which will be his chance to show his worth. Even though he isn't a newcomer, as he has competed in more than 5 years, he is definitely a part of a new generation who will put up a fight. And he has a number of victories to his name, such as bringing home three stages in the Giro d'Italia U-23. We can only expect that this young brit will continue to race towards more gold medals and join the future of bright young talents. We are excited to follow him in the next upcoming races.
If you ever wish to bet on Tom Pidcock, you should look for betting promotions, so you can get the best promotional offers.
Megan Jastrab
The young Megan Jastrab brings girl power to cycling. She hails from California, rides for Team DSM and is the face of future cycling. This junior road world champion is only 19 years old but has already shown a talent beyond her years. Although she has received an immense amount of hype, it seems like this young cyclist stays humble and modest. Although she didn't race last year, her work ethic and determination are reasons why we expect endless opportunities for her. Her racing is intense, focused and it is clear to everybody, that she trains extremely hard. In another interview she described what an incredible feeling it is to represent her country, whilst doing what she loves. It isn't unrealistic, that Jastrab will be an Olympic rider for the U.S. in the near future.
Tadej Pogačar
Tour of California. 2020. Tour de France. The winner of both of these tours? The name is Tadej Pogačar, just 22 years of age. The name may be difficult to pronounce, but the Slovenian cyclist has proved several times, why he is not to be messed around with. In the 2020 Tour de France he broke several records, being the first Slovenian to win as well as being the second youngest winner of the tour. In his early career he was scouted by Andrej Hauptman, where he quickly caught the coach's eye. As of now he is in second place in the UCI World Ranking and currently rides for UAE Team Emirates. Some cyclists have been sceptical of whether his career has accelerated too quickly or not. Our take is that even though, he has achieved incredible records in no time, this is just a representation of the new superstars in professional cycling.
Egan Bernal
We've already written several articles about this rider, because he has already proven his worth as a leader of the new generation of cyclists. Winning the 2019 Tour de France at age 22, the Colombian was the first Colombian and South American rider to win the Tour. His victory resonated with fellow Colombians and South Americans, who almost couldn't believe their own eyes. However, the Tour de France 2020 did not go well for Bernal, where several experts feared, the Colombian had lost his momentum. In December of 2020 he spoke with Colombian TV, where he stressed that he would be preparing for the 2021 Tour de France. Slowly, but steadily. It seems as the 2020 season was a big lesson for Bernal, who would have to spend a lot of time on recovering. But there is no doubt, that this isn't the last we've seen of Bernal.
João Almeida
João Almeida is a Portuguese rider. He has ambition, talent, and his contract with Deceuninck – QuickStep shows, that Almeida has a lot of potential, that needs to be harvested. Almeida finished third overall at the Vuelta a Burgos in 2020 and he was named to the Giro d'Italia squad at the age of 22. Though expectations for Almeida are high this year, he is here to impress.
So where does this leave us? There is no doubt that these new cyclists are taking on the pros, one by one. Even though they still need a lot of experience, they definitely have the potential to become some of the best in the game.