You love cycling, we certainly love cycling, but did you know that some of your favourite sports stars love cycling too? Yes, even though many professional athletes have clauses in their contracts preventing them from taking part in certain sports, for many, the love of the open road is just far too intoxicating.
Below we've listed some of the most famous, some of which may surprise you.
Bill Walton
An NBA Hall of Famer, Walton is also regarded as one of the greatest college basketball player of all time. Back in his professional playing days, Walton would ride his bike to games and those who lived on his cycling route would stand and cheer him on. Safe to say, the man likes his bikes.
Once he retired, he took his love of cycling to another level by co-writing a book on cycling and even organizing huge public bike rides in his hometown of Portland. A perfect example of using his celebrity status for the good of the community.
Tony Kanaan
Unless you follow motor racing, you've probably never heard of Brazilian driver Tony. He won the 2013 Indianapolis 500 and the 2004 IndyCar Championship. Ne mean feats. He also holds the record for being the first IndyCar Series driver to complete every single lap in a season. That's 3,305 for those of you who are counting.
But Tony is also an accomplished Triathlete. He has also been photographed many times at the racetrack with his bikes. In fact, he's so into cycling that he regularly posts updates on his social media feed asking fellow cyclists to join him for a ride.
JuJu Smith-Schuster
Like Walton, Smith-Schuster likes to ride his bike to work. His job? A pro NFL player for the Pittsburgh Steelers. JuJu spent the entirety of the 2017/18 season cycling to training and games because he didn't actually have a driving license. But he loved it so much that he continued the habit.
Unfortunately, the wide receiver hasn't had much luck on the field so far this season and according to those who know, the Steelers' chances of making the playoffs aren't great. And yes, we know it's only October. But if he doesn't make the playoffs then at least he'll have more time for riding his bike!
LeBron James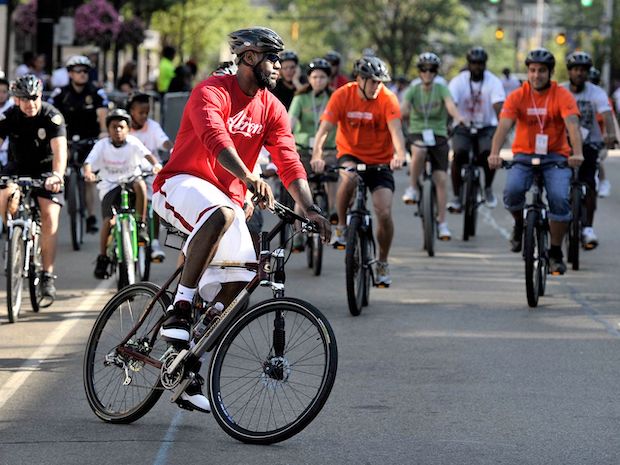 The living legend that is LeBron is another pro athlete that likes to ride his bike to training. His reasoning, though, is a little different from JuJu, claiming that cycling is the best exercise you can get particularly if it's in the morning. Now, of course, this is LeBron so there's a lot more to this than cycling to work every day.
LeBron is a serious cycling advocate. In fact, he's so serious that he has committed to giving every child at his school a free bike. He feels that cycling offers kids a sense of freedom that nothing else can touch, and as you may have guessed, we totally agree with him.
Bo Jackson
You may remember the name because let's face it, Bo was an incredible athlete. Not only did he win the Heisman Trophy for his college exploits but he also went on to play for the Los Angeles Raiders. He then went on to become an MLB All-Star who had a habit of hitting home runs. Bo Jackson is the very epitome of an accomplished athlete.
And he's also a fine cyclist. He's so serious about the sport that he started a charity bike ride called Bo Bikes Bama which he leads every year. The proceeds from the ride goes to help build community tornado shelters across his home state.
Emmitt Smith
He's a three-time Super Bowl champion and a hell of an athlete. He's the Dallas Cowboys legend Emmitt Smith and when it comes to cycling, he's taking no prisoners. The former running back likes to say that he's finished with running and now spends most of his time in the saddle.
But for Smith cycling isn't just a hobby. He started the Emmitt Smith Gran Fondo which includes races to suit everyone from the pro cyclist to the complete novice. He actually takes part in the races himself too so fans often get a chance to ride alongside him.
Honorable mentions go to Jimmie Johnson of NasCar fame, NBA Hall of Famer Reggie Miller and NFL legend Brett Favre. All of whom are well known to spend a great deal of time in the saddle. We're just waiting for Serena Williams to hang up her racket and start dominating the world of cycling now. You never know, it could happen, right?