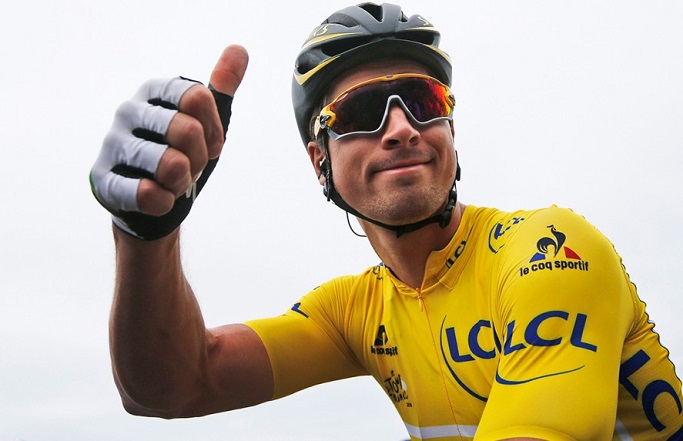 Peter Sagan has already won two world championships, five Tour de France green jerseys, the Tour of Flanders — and some have been wondering whether he should one day have a go at the ultimate prize for a cyclist, the Tour's yellow jersey.
Three-time champion Greg LeMond, however, says the Slovak, once dubbed 'the next Eddy Merckx', would need to 'starve himself to death' to lose enough weight to be able to compete in the climbs, as a contender for the overall title must do.
"I don't buy into that transformation," American LeMond, on the Tour as an analyst for Eurosport, told Reuters after Sagan won the third stage with an awe-inspiring uphill sprint.
"Peter Sagan has low body fat. What he could lose is muscle mass – and you have to live like a monk to do that.'
Sagan is 1.84 m (6 feet) tall and weighs 73 kg (161 pounds). Bradley Wiggins, 1.90 m (6 foot 3 inches) tall and originally a track cyclist, had to shed considerable weight to get down to just 71 kg (156.5 pounds) to put himself in a position to win the Tour in 2012.
"Sagan would have to lose four or five kg (9-11 pounds)," said LeMond.
"And he should not do that, that's quite unhealthy. When you do that, it eats muscle away, it's very risky. You starve yourself to death for a long period, and it could work – but it can lead to depression, it's an unnatural thing to do."
LeMond himself went through tough diets during his career, winning the Tour in 1986, 89 and 90.
"If I started a season 5 per cent of body fat, I was fighting to stay there," he recalled. "Your body has a natural point and looks to keep its balance. That's why diets don't work!"
"It's also very hard to maintain year after year. Look at Bradley Wiggins. After he won the Tour, he came back to his natural weight."