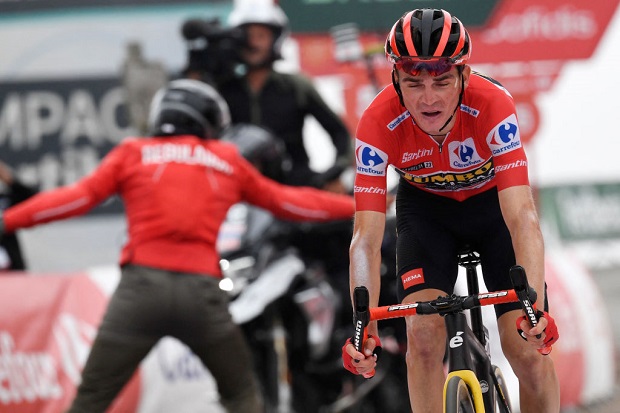 The inhuman climb of the Angliru seemed to be the end for Sepp Kuss's red dream just a few kilometers from the finish.
The American had to let his strong teammates Jonas Vingegaard and Primoz Roglic go and the seconds quickly ran out. Kuss gritted his teeth and ultimately limited the damage, allowing him to also put on the red jersey in stage 18 of the Vuelta.
"Tomorrow [Thursday] is a stage we have to respect and a lot of things can happen. Today was a really decisive day and the gaps are like they are. For me the situation is clear but we still have to speak amongst ourselves.
"They are two big champions. I want my shot, but I'm happy to work for them when it's called for. It's been a beautiful experience."
"I came into this race with no expectations, I was just looking to help out the guys, like always, but then I came into this beautiful jersey and all the experiences that come with it.
"I've discovered a new level of self-confidence and racing instinct and that was incredible. With the two guys, [Vingegaard and Roglic] I think behind the scenes we work really well together."
"One day closer;" Kuss pointed out. "Halfway up the climb, Jonas told me, Sepp, you're going to win and I said – we'll see."
"Roglic felt super good, and just rode amazing. I tried to stay with him as long as I could, and then just limit the damage in the end."
"When I crossed the finish line, I thought I had lost the jersey. I did the best I could on the climb so when I heard I still had the jersey, I was a bit surprised;" Kuss said.
"I've had strange feelings today, but not in a bad way. It's been another day with my two strong teammates, my friends as well. I think we had a nice time, as good a time as you can racing up the Angliru. It was a crazy day."