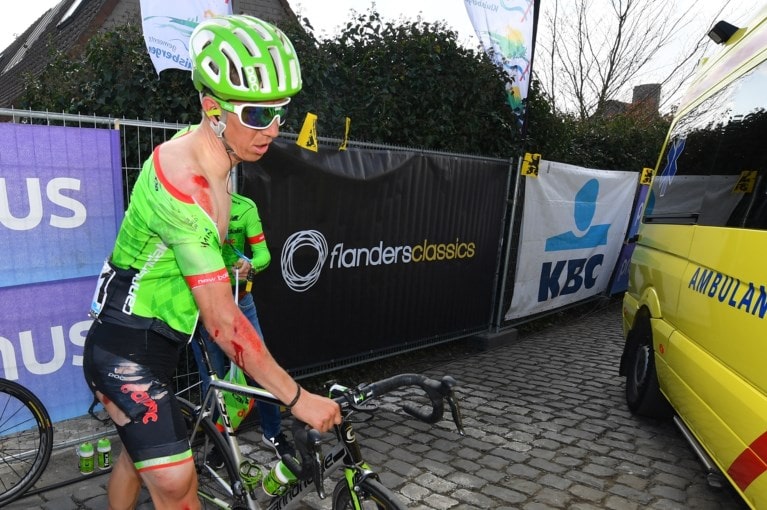 The crash during the Tour of Flanders that forced Sep Vanmarcke to abandon De Ronde will also keep him from starting the next Monument on the calendar, Paris-Roubaix.
Vanmarcke suffered heavy road rash in addition to the broken finger. The Belgian, who has three top 5s at Paris-Roubaix on his palmares, made the decision mid-day Wednesday.
"My hands are the biggest problem," Vanmarcke said. "The broken pinky on my right hand makes it impossible to put my hands on top of the bars. I can put them on the brakes, and I can brake with two fingers. But each time I hit a bump or anything, it's painful.
"The larger problem is my left hand, because the skin is off every finger. I cannot brake with that hand — it's just too painful to put the pressure on it. Also, my right knee is still a problem. It would make no sense to be at the start line. I lost a lot of skin off it."
Director Andreas Klier put it like this: "I didn't ask him to ride intervals. I just asked him to try to put on his jersey. And I said, you'll see it's not going to be easy. And try to put on your race gloves. And just call me. Sep trained this morning and he didn't call it training. It's very difficult for him to even sit on the bike because of several different injuries. Knee, hands, shoulders, hip."
"I'm really, really disappointed. I start training for these races on the first of November. My focus is always on these races. Omloop went well, but from Strade Bianche I started to go wrong. A crash, the ribs, then I had the stomach problems, then this crash. So I've been fighting a lot, and always coming back," Vanmarcke said. "It's a disappointment. I was never on my top level, and I could never show what level I was at."
American Taylor Phinney, who sustained a minor concussion during the Tour of Flanders, is still under consideration for Paris-Roubaix. The Cannondale-Drapac team will make a decision on its roster after it completes its reconnaissance training of the French pavé on Thursday.