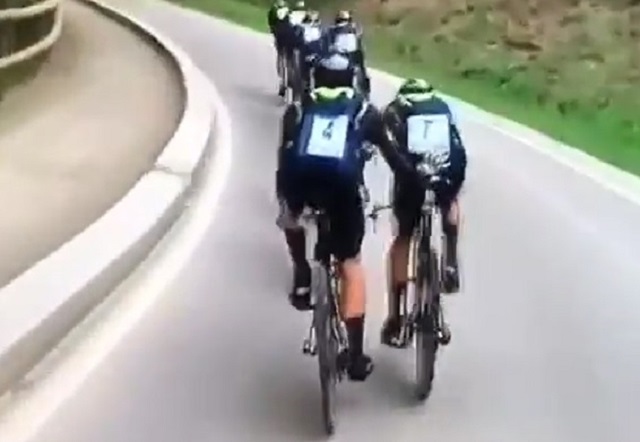 Jose Joaquin Rojas was initially designated as Volta a Catalunya new leader after today's team time trial, but was penalized three minutes for pushing teammate Nelson Oliveira back into the rotation.
Tejay van Garderen called out the Movistar team on both Twitter and Instagram, pointing out that riders pushing one another is not allowed.
https://www.instagram.com/p/BR6BgHbFNl8/?taken-by=tejay_van
His team-mate Brent Bookwalter then also posted on Twitter saying: "UCI rule 2.5.018 in the rule book chapter titled Team Time Trials @UCI_cycling. 6 km to go."
Bookwalter also highlights that Rojas who was providing pushes was not one of the team's protected riders stating: "1 of multiple occurrences. The hardest part of TTT is getting in line after pull. Coincidence having non GC teammate sitting on doing this?"
UCI rules stipulate that, in the event of team members pushing one another in a team time trial event, each rider from the team should be penalized one minute, and fined as well.
Alejandro Valverde leads now the race after Rojas, Amador and Oliveira got  3′, 2′ and 1′ penalties.