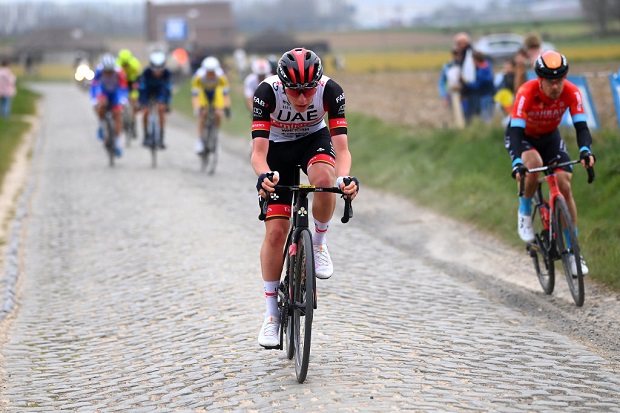 Tadej Pogacar will be at the start of Tour of Flanders again next year. The Slovenian, who is currently in Spain for a training camp, announced this at a press conference.
In 2022, Pogacar made his debut in the Tour of Flanders, although he had to settle for fourth place, the two-time Tour winner made the race. The Slovenian rode to the finish in Oudenaarde with winner Mathieu van der Poel, but Pogacar missed the podium after a crazy last kilometre.
The Slovenian hopes for a better outcome next year: "The Tour of Flanders will be one of my big goals for the spring," he said.
"It was a really beautiful experience and this year Flanders is one of the goals. I think Sanremo and Flanders are two of the hardest races to win for me, even though I was not so far off in both… Sanremo is a long boring race until the coast and then you have just one moment when you need to push the best power. It's one of the hardest to win, that's what makes it so beautiful," he continued.
"But every year is different, I want to go there as well prepared as possible, and give it a shot. But I'm not expecting to win it [Flanders] on the second go. Maybe I'll have to go there for the rest of my career. But it's not so much about winning, it's just when you can race and be up here, that's a really nice feeling. Flanders is one of the biggest races and has the biggest crowds and the best atmosphere, also the parcours is really special for me with the cobbled climbs. It's chaotic and stressful but I like it," Pogacar concluded.
In the run-up to De Ronde, he will also ride the Dwars door Vlaanderen. In the summer, the 24 year-old Slovenian will focus again on the Tour de France.