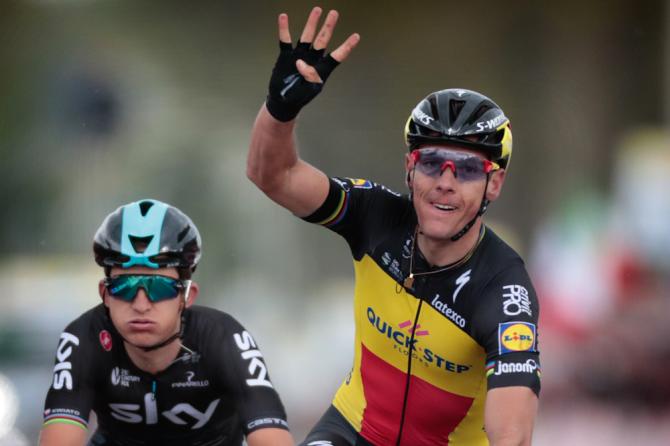 The first rider in over two decades to win a cobbled and an Ardennes classic in the same year made an analysis of his 2017 season and talked about his remaining goals before retiring.
"First thing that I can tell you now when I look back on my 2017 season is that I'm happy for taking the right decision last year, when I chose Quick-Step Floors. I knew that the experience and strength of the team would help me in the Classics. I was relaxed in the winter, trained hard and all this work put me in a good position to start the season, for which I was highly motivated", said Philippe Gilbert.
"Ronde van Vlaanderen was a huge goal for me, I'd been talking about it for months. It's one of the biggest and most important races in the calendar and I always dreamt about winning it. My team was fantastic on that day, protecting me from the start and then instigating that decisive move on the Muur-Kapelmuur".
"Two weeks later, I lined up for Amstel Gold Race, without having a clue about how hard and emotional that day would be. I knew I had the legs to win, but then that crash happened with 100 kilometers to go. It was a hard moment, and my first thought was that my race or even my season was over. It was painful, but again with the help of the team I returned to the bunch and got in the upper part of the peloton just before the race was split to pieces. Winning after this roller coaster, after some of the most intense 100 kilometers of my career, on such an unpredictible course, was really emotional and energy-draining"
"At the World Championships, where I came after having a good preparation in the Tour of Britain, I knew the final climb could play an important role, so when the attacks started to pour in, I had to make a decision: go with them or wait for the bunch to come back, which eventually happened. The idea was to try something in the finale, but it turned out I wasn't the only one with this plan, so all these moves got nullified by a peloton eager to see the race decided in a sprint at the end of a hard race".
Motivated for 2018
"Spring is my favourite part of the season, so it's a no-brainer I will focus once again on the one-day races. Everybody knows that I dream of winning Milano-Sanremo and Paris-Roubaix and completing my palmares with these two Monuments; having them in my sights gives me a fresh motivation, but it won't be only about these races, as I want to be competitive in all the Classics".
"I've been very successful in the Classics over the years and if I will win another one before bowing out from the sport, I will be happy. If not, I'll just take things as they come. Even if I don't win all the Monuments, I want to know that I tried and when the time will come, to quit cycling without any regrets".