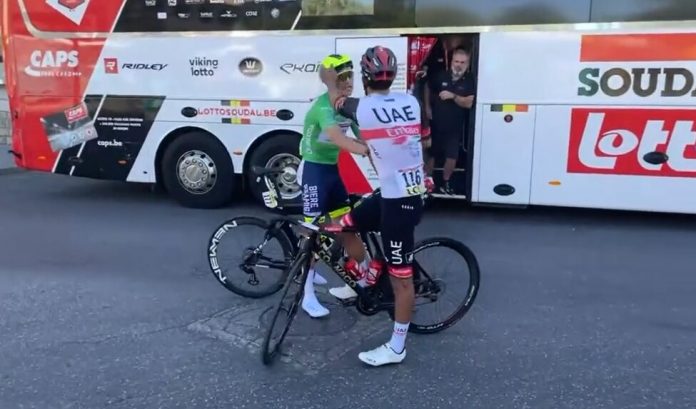 Juan Sebastian Molano was disqualified from the Criterium du Dauphine on Friday after the UAE Team Emirates rider hit Hugo Page twice in the sixth stage.
Molano was arguing with Page late in the sixth stage before shaking his bike and striking him on the helmet.
Todo lo que no sea expulsión de carrera, y algo más, para el ciclista del UAE será una broma pesada, @urbixxx (🖥ASO/Eurosport) #Dauphiné pic.twitter.com/A9AajJT7Nn

— iker gallastegi (@ikguallas) June 10, 2022
The 27-year-old then raced to Page's team bus to angrily remonstrate further before striking him on the head again.
En sjælden løbetur gav pludselig afkast. Juan Molano fra UAE slår Hugo Page efter målstregen på dagens etape af Critérium du Dauphiné. Nu er Molano blevet smidt ud af løbet. Mere her: https://t.co/d6fvLaY3SV… @jacobqvirin pic.twitter.com/ORP7APpd2U

— Oliver Kristensen (@OliverKristens4) June 10, 2022
"I had a problem with him since the first days of the race, in the first stage, I nearly crashed to the ground once because of him," Molano said.
"Today at 10km to go we were going 80kph and he was changing lanes and he came into my direction, and he bumped into me. Today with 10km to go, with a lot of stress, 80kph, I know what I did isn't right," he said.
"I hope some of the people can understand, I was fed up with this kid, because on the first day I didn't fall by luck, and if I had crashed in the front five, just imagine, how many would have come down with me. Imagine today at 80kph.
He later apologised for his actions saying he made a "dangerous mistake".
"On the run-in to the finish it was fast and tense and in the heat of the moment I made a dangerous mistake," Molano said in a statement released by his team.
"I'd like to apologise to Hugo Page and to all the riders for what happened. I understand why I was disqualified and can only say I regret it and learn from it."
Page did not respond physically to Molano's actions.
"Obviously there's a fight for position, he wasn't happy and he gave me a good whack on the head. I didn't react because it's not in the spirit of the sport. What he did is unacceptable," Hugo Page responded.
"He insulted me, but it's not my problem. I'm only interested in my own sprint, and I don't know why he was annoyed."