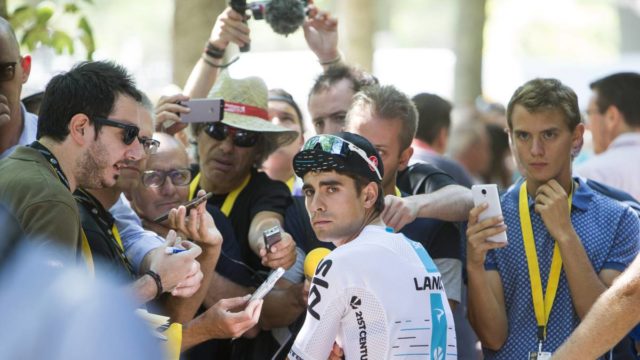 Earlier in the week, Nairo Quintana told El Pais that he will be the sole leader of Movistar at the Tour de France, relegating Mikel Landa to a helping role.
Landa heads to Movistar next season but has not felt welcome at the Spanish team after Quintana's interview.
"I was there with all my teammates and it has been something that has always been taken in a good way, nobody has taken it badly," he explained his 'free Landa' exclamation during the UCI gala.
"They asked if I would dare to say it on the last day with them and we had a good laugh."
"Well… Evidently, I would have liked another kind of welcome, but as it seems I'm going to his house and it looks like he doesn't like it," Landa commented about Nairo Quintana's interview.
"I think Eusebio (Unzue) will know how to handle our egos and bring out the maximum of each of us."
"I think it is an advantage to share responsibilities. It takes a little bit of pressure off me. To have Quintana next to me can be very positive and the two of us can cause more damage together than individually."
"The role that I had in the Giro made people show interest and the Tour was the maximum. Everybody wanted me in their teams, but I chose Movistar,".
"It is a team with tradition, that has been doing things well for many years and I think it is a squad that will take 100% out of me. It is a team to which I'm not going to lose my time and I will be able, finally, to fight for that big race."
Landa's calendar for 2018 is not decided yet, but he has some preferred races. "I don't know. The course of the Tour is very complete, I like it. I'm waiting to see the route of the Giro. I don't know which race I will choose, but I would really like that in the one that I ride, I can fight for it and have all the possibilities to take the victory."