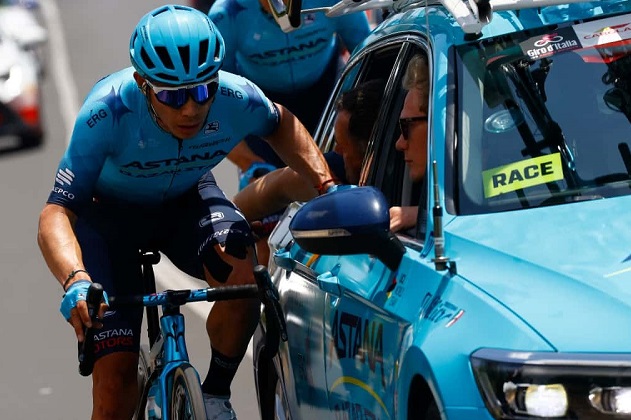 The Giro d'Italia lost one of its top contenders on Tuesday as Miguel Angel Lopez of Astana pulled up with the peloton headed towards a Mount Etna summit finish on stage 4.
The Colombian was suffering from an injury to his left hip and climbed off on the first stage of the Giro on Italian soil.
Lopez has had poor luck in Sicily as the last time the Giro came here in 2020 he hit a pothole and was propelled into a building during the Palermo time-trial.
"Well, Miguel Angel has some thigh problems for a few days already. We tried to do our best to solve it during the first stages in Budapest and during the rest day, but it did not work. Today, unfortunately, he had to stop. Our first diagnosis is the tendon inflammation to the left quadriceps due probable overload or old injury. But, in the next days the rider will pass deep medical check up to find the exact cause of the injury to start the appropriate treatment", said Astana team doctor.
"It is really sad to finish the Giro in this way after just four days due to an injury. The team staff did all possible to help me to recover during these days, but it was impossible in racing conditions. I was hoping day by day that it becomes better and I could pass it, but today I just could not push the pedals normally due to the pain in my thigh. I am really sorry to leave the race and my teammates, who came here to help me to fight for the General Classification, but that's cycling", said Miguel Angel Lopez.