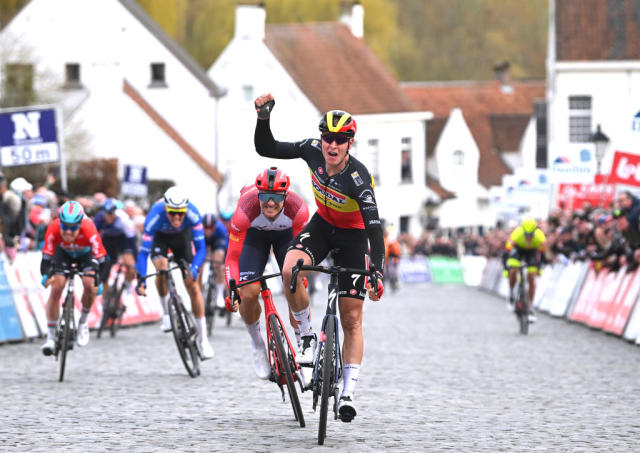 Tim Merlier make it two consecutive wins at Nokere Koerse, the race held just a stone's throw from the place he lives.
The Belgian champion didn't miss a beat in the pulsating finale of Wednesday's race, powering to a clear victory ahead of Edward Theuns and Milan Menten.
"This is my home race, so to win it for the second time feels great and makes me very proud", said Merlier.
"The race, and especially the finale, was hectic, with a lot of attacks, but the team did a great job the entire day. Bert was so strong that he still had enough to launch me after closing out that last dangerous attack. It's difficult even to describe the amazing work he did in the closing kilometers. All I can say is that I am happy I could finish it off"
Après avoir repris Vermeersch, Pithie et Vanmarcke dans le dernier km, le champion de Belgique Tim Merlier a conservé son titre sur #NokereKoerse devant Edward Theuns et Milan Menten. #cyclisme #wielrennen pic.twitter.com/Iunz5wg34J

— 🚴 Les Rois du Peloton 🚲 (@LRoisDuPeloton) March 15, 2023