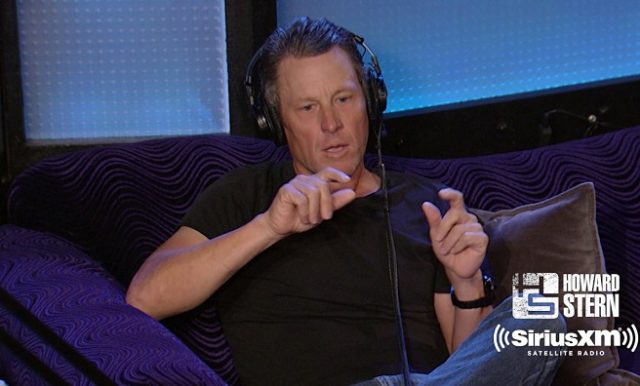 Lance Armstrong has revealed what he regrets most during a career spent rebuffing accusations of doping.
After years of denying taking performance drugs, in 2013 the disgraced cyclist finally admitted to taking banned substances that helped him win seven Tour de France titles, which he was later stripped of.
"The decisions I made when we were at war, quote unquote, that is a different thing," Armstrong said in in a wide-ranging interview with Howard Stern. "But the way I acted, the vehement denials and the way I went about defending myself … the ultimate Lance Armstrong torture is put him in front of a laptop, pull up Youtube and make him watch some of those press conferences. Just such a d***. The way I acted was by far the worst part."
Speaking to Stern, he passed on a message for his online detractors, saying: "We live in an age where people don't have to come up to your face to criticise you. No one has ever come up to my face in the last five years and done that. But to people who do it on Instagram, Facebook and Twitter, you know what I say? I understand.
"I can't change it. All I can do is walk this walk I'm on. If I'm at an airport, a bike race, if people criticise me, I'd say I totally understand. I'm sorry."
Speaking to Stern, Armstrong said "nearly everyone made the choice (to dope)" because "the culture of the sport was so crazy", but maintained he wasn't making excuses for his actions. He also acknowledged the awkward nature of his relationship with his kids as a result of his cheating.
"I tell a story of my son Max when he was having a conversation with his mother," Armstrong said. "The subject came up and he was talking with his mother and she was saying that I was a great professional cyclist.
"He and I are best friends and he loves me to death. His response was, 'Yes but he cheated.' My son said that to his mother.
"When they grow up, they will watch a documentary, they will watch something on YouTube. That will come up."