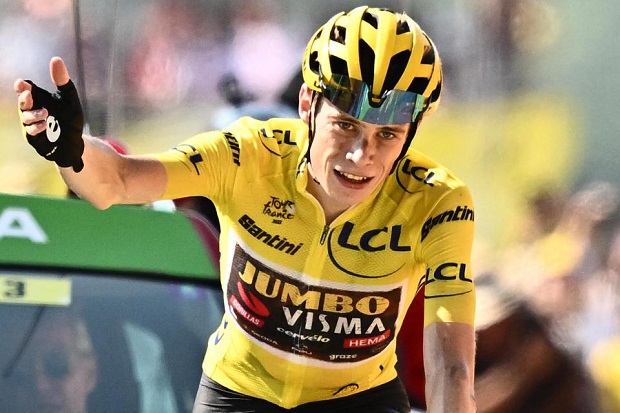 Jonas Vingegaard won the Tour de France this summer, but the Dane wants to get much more out of his career. 
"I'm very much looking forward to ride the Tour with number 1 on my jersey", the leader of Jumbo-Visma says. "And for the long term I would like to win all three Grand Tours. And really discover the classics. Lombardia and Liège-Bastogne-Liège should suit me."
Vingegaard has no great results in the listed monuments. At the Lombardia he finished 14th in 2021 and 16th in 2022, while in Liège-Bastogne-Liège he did not get further than 28th place.
"I've already ridden those races, but that didn't always go well. Races of 3 weeks suit me better for the time being, because I recover quickly every day. I haven't put the classics out of my mind yet, but I might never manage to win one."
In the conversation with AD, Vingegaard was also asked about his compatriot Michael Rasmussen. During the 2022 Tour de France – after the last time trial – the two Danes spoke to each other.
"What happened to him was not good," Vingegaard recalls the 2007 Tour de France when Rasmussen was taken out of the race by the Rabobank team because he had lied about his whereabouts. Although he later admitted to having used doping, he still feels robbed.
"But he cheated," continues Vingegaard. "I don't agree with him that he was robbed. The cycling world has changed. In Denmark, people know that we don't cheat anymore. At least, I think and hope they think so. I can talk about this topic very easily. It is a pity that we sometimes have to suffer for another generation in our image."
"As a fan I would also wonder if we are not being fooled. It's slowly getting better, but we shouldn't hide the subject. If you cheat, you should be gone. I'm never going to screw things up. I want to prove that it's possible without doping. And I know people said that twenty years ago. They can keep my tests forever and retest them in a hundred years. I think that's totally fine."