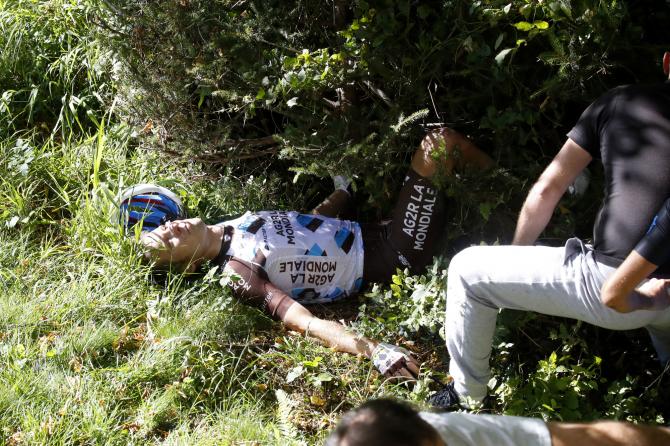 The 31-year-old AG2R rider broke seven ribs and two vertebrae after his fall on a perilous descent in the Italian one-day classic.
"Jan must have an urgent operation in Belgium to consolidate the fractures to the L3 vertabrae," AG2R's medical service announced on Thursday.
Bakelants was treated in intensive care in a hospital in Como after the accident watched by millions of viewers.
"Because of a haemothorax, it was unfortunately impossible to transfer him to Belgium in the last few days. It has now stabilised allowing him to be transferred to the hospital in Louvain (Belgium)," his team reported.
The stricken rider has been surrounded by his family and friends since Monday.
"Jan and his family were shocked by this accident and are today relieved at his return to Belgium and his upcoming operation before starting on a long period of convalescence," the AG2R statement noted.
Bakelants was not the only rider to come to grief in this year's Giro di Lombardia.
Another Belgian, Laurens De Plus, was hurled over his handlebars and off the edge of the road into a deep ravine during Saturday's race. His Quick-Step team said he had escaped without serious injury.
Two other riders also crashed on the same hazardous section of the route as Bakelants.
Italian Simone Petilli suffered a broken collarbone and shoulder blade, and fractures to his neck and one vertebrae, as well as concussion and a cut to his forehead. Colombian Daniel Martinez escaped any fractures.