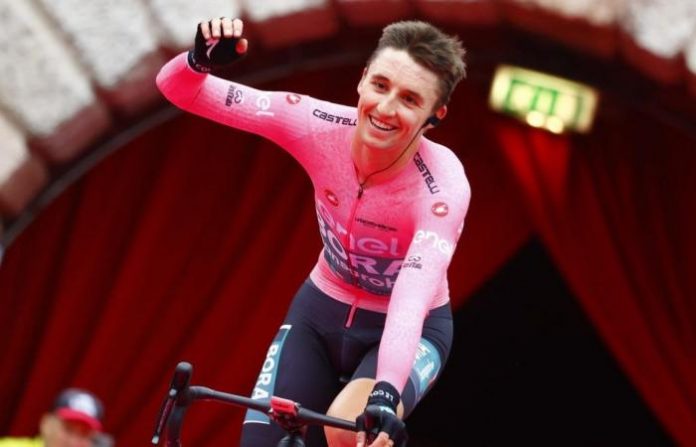 Giro d'Italia winner Jai Hindley's next big dream is to triumph in the Tour de France.
"The biggest would be to ride the Tour. This is my fifth year and I've never ridden the Tour. That would be a huge step forward. Not necessarily riding for GC, but just riding the Tour is super special, so maybe next year. That would be pretty awesome."
Away from the bike, Hindley is at the time prioritizing resting and enjoying the next week with his family.
"It was pretty full-gas from the moment I crossed the line. I didn't have time to do anything. It was full-gas interviews, the presentation, and then we had a big party afterwards," he detailed. "The highlight for me beyond winning the race was to have my parents and girlfriend, especially my parents, whom I had seen in such a long, long time. That was so special."
In five years as a pro, Hindley's raced five grand tours, including four editions of the Giro — finishing second in 2020 and winning in 2022 — and one edition of the Vuelta a Espana in his grand tour debut in 2018.
"I would love to do the worlds, but every Aussie pro would say yes," Hindley said. "I would put my hand up to do it because I think it's going to be a super hard race, with 280km and a lot of climbing.
"I think it's going to be a tough race, as the worlds is every year," he said. "It would be special to be part of that team. I don't know will be going that time of year. Normally I would do the Vuelta, and it would be nice to go back to Australian after almost three years."