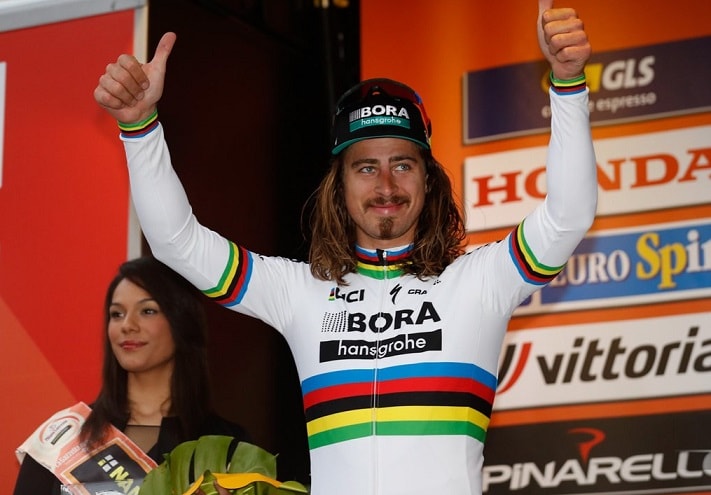 Three weeks in a saddle for 200km per day in the blistering heat and pouring rain; riding up climbs too steep and long to be classified; crashes, falls and injuries – it's hard life being a professional cyclist.
The average rider will race over 10,000km in a year, in 80 days of racing, spending 220 days away from home sharing shabby hotel rooms with team-mates rather than their wives and girlfriends.
But for all the sacrifice, danger and pain, how much do cyclists get paid?
Big teams such as BMC Racing, Quick-Step, Astana, Movistar, Team Sky will spend between 75 per cent and 80 per cent of their budget on riders.
Chris Froome's three Tour de France wins earn him a salary of around €4.77m per year. Alberto Contador is on a €4m salary, while Vincenzo Nibali, the 2014 winner earns a little less at around €2.9m-€3m.
Salaries increase with performance. As a new rider Froome would have earned €95,000 when he was signed for Team Sky. As a domestique for Sir Bradley Wiggins, he was probably earning just over €830,000.
Big-name sprinters are also earning in the millions. Mark Cavendish earned €3.5m a year at Etixx – Quick-Step and Peter Sagan is rumoured to be earning just over €6m as part of the Bora-hansgrohe team.
Andrew McQuaid, director of Trinity Sports Management, represents a large number of English-speaking riders. He told Sky Sports that "bike wins" are the key driver in pushing up a cyclist's value, but there are other factors.
"A rider's age can push up their value," he said. "Rohan Dennis is an example of an athlete with great recent performances but has great career potential and a great career ahead of him, which will drive up his price."
Nationality is also key. Chris Froome gets a big pay cheque because he rides for a British team.
McQuaid said: "It's not just a rider's nationality, it's a mix of factors, including the team they are going to and why that team wants that rider. For example, a team may have a British sponsor and so want a British rider.
"Lots of teams are sponsored by bike manufacturers, so it serves their purpose to have riders from that nation and they want good riders from those nations. The perfect rider for them will get the rider a good salary."
Compared to the average salary of a job in the UK, the wage of a young cyclist is nothing to be sniffed at. The minimum wage is just over €30,000.
Financial figures released by Team Sky of their 2012 season showed that the team only employed seven full-time staff, with all of its riders effectively being hired as outside contractors.
While you would get all of your kit and equipment supplied by team sponsors, it would probably still be tough to live in cash-rich places like Monaco if you were only earning €30,000 a year.