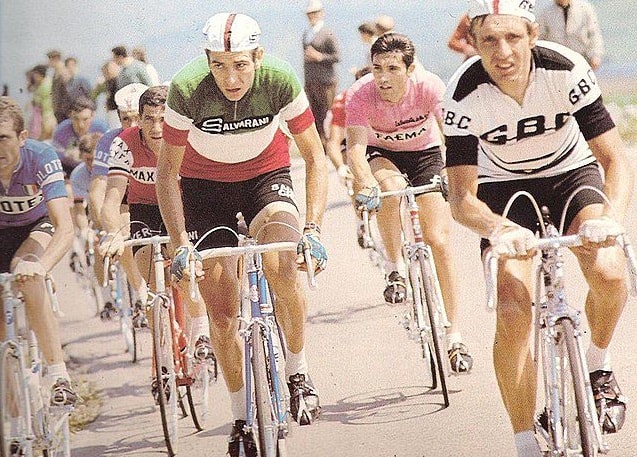 This Saturday, Bologna hosts the Big Start of the Giro d'Italia with a hilly ITT that is expected to open up significant gaps on GC.
The first Grand Tour of 2019 takes in iconic climbs up the Gavia and Mortirolo, but also includes the unprecedented ascent to Lago Serrù: Colle del Nivolet. The final stage – another ITT – will take place on Sunday 2 June in Verona.
With just a few days to go until the Giro 102 starts, Cycling Today has put together some vital numbers and statistics from the Giro d'Italia through the years.
The race was created in 1909 and the inaugural edition was won by Luigi Ganna
Alfredo Binda, Fausto Coppi and Eddy Merckx share the record for the most GC wins, five each
Only 8 stages featured in the 1909 edition of the race. Despite the dearth of stages in comparison to modern day Grand Tours, it still packed in 2,447.9 kilometres.
127 riders left from Milan on May 13 to begin the first edition of the Giro d'Italia. There would be far few riders when the race returned to Milan on May 30 with only 30 finishing the race.
Felice Gimondi holds the record for most podium finishes: 9
The race has had 13 foreign starts until now: San Marino (1965), Monaco (1966), Belgium (1973), Vatican (1974), Greece (1996), France (1998), Netherlands (2002), Belgium (2006), Netherlands (2010), Denmark (2012), Northern Ireland (2014), Netherlands (2016), Jerusalem (2018)
In 1946, the maglia nera was introduced into the Giro d'Italia. The black jersey denoted the rider who was last in the overall classification. It didn't last very long and was awarded for the final time in 1951.
430 is the kilometres ridden during the longest ever Giro stage. That was in 1914 in a stage from Lucca to Rome.
Fausto Coppi is the youngest ever winner: 20 years and 268 days (1940)
Fiorenzo Magni is the oldest winner: 34 years and 180 days (1955)
The smallest gap in seconds between the winner and the second placed rider is 11s. It happened in 1948 when Fiorenzo Magni beat Ezio Cecchi to take the first of his three titles.
Most days in pink on the Giro: 77 – Eddy Merckx. The Cannibal is followed by Alfredo Binda (59 days), Francesco Moser (57) and Gino Bartali (50).
Olimpio Bizzi (19 years and 299 days in 1936) is the youngest stage winner, while Giovanni Rossignoli (37 years and 186 days in 1920) is the oldest one
Pink from start to finish: 4 riders – The last was Gianni Bugno (1990)
Most heartbreaking was the plight of Laurent Fignon: the man who lost the Tour de France on the last day by 8 seconds in 1989 also lost the Giro to Francesco Moser in 1984 after wearing pink throughout the entire race.
The 1914 edition witnessed the largest winning margin: 1h57min26s  between Alfonso Calzolari and Pierino Albini
Mario Cipollini, has the most stage victories in the history of the Giro: 42
In 1921, the race began to be filmed in order to be screened in cinemas
Between 1909 and 1913, the scoring format used a points-based system, which was subsequently changed to a time-based system