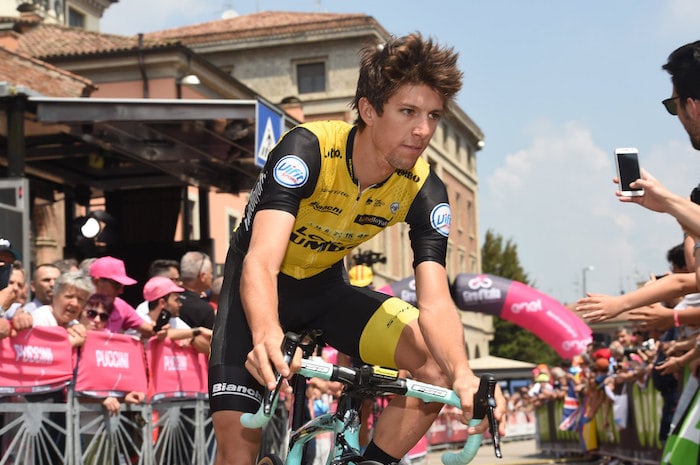 In a recent interview with Eurosport, LottoNL-Jumbo's George Bennett said that Alejandro Valverde's victory at the World Championships is something to "take a lot of hope".
"I didn't think I'd ever see a baby boomer get up for the world title", said Bennett. "But you know, I think every cyclist has a worry that they're running out of time. I'm only 28 and I look at him and I think, 'S***, I've got a good 10 years ahead of me'. Maybe 11 great years if you can do what he does. Most guys shut it down at 34, 35, around that time. I take a lot of hope from seeing a veteran – who could literally race in the masters in New Zealand – do what he did".
The 28-year-old New Zealander also outlined his targets after signing a contract extension with LottoNL-Jumbo and shared his stance on his now-famous reaction to Chris Froome's remarkable long-distance attack in the Giro.
"For me, the Giro was quite disappointing because a few mechanicals probably took away a shot at a great result there. And I think the Vuelta was obviously a blow-out. So as things go for next year, you just have to accept that there are a couple of guys who have the priority but that doesn't mean I'm not going to get my chances to lead as well".
Fans will best remember Bennett's season for his comment about Chris Froome "doing a Landis" in the Giro.
"Ok, the kid thing, how many times…? I mean, that's great. What people love about that is the kid. I've given kids a bottle thousands of times in my life – everyone else has as well – but this kid was just so enthusiastic and that was special. It just happens that someone was there with a camera but that's happened 10,000 times to a lot of people. So that's great".