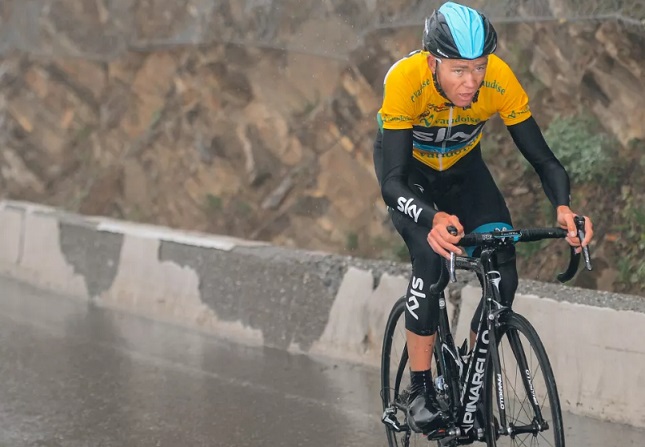 Chris Froome is comfortable with where he is at this point of the season as he targets his third Tour de Romandie title.
Froome has enjoyed a quiet start to 2017 as he looks to hit top form for the Tour de France and he sees Romandie as a 'crucial stepping stone' towards that.
He arrives on the back of a training camp in Tenerife for what will be his third stage race of the season, after the Herald Sun Tour and Volta a Catalunya.
"I feel good, I feel comfortable with where I'm at at this time in the season. I had a good training camp with the some of the Giro guys up in Tenerife and we'll be going back up to Tenerife after this race. As normal everything with me is focused on being ready for the Tour", said Froome.
"This year the Tour de Romandie isn't quite as mountainous as it has been in previous editions, so maybe we'll see a different kind of winner. I can't see a direct correlation between Romandie and the Tour de France, but for me it's always been a crucial stepping stone on my way to winning the Tour.
"I'm here to race to the best of my ability and I've got a good team around me. I think it should be a good week of racing – hopefully we don't get snowed in!"
With less mountain-top finishes than in previous years Froome believes the race is likely to be decided on Saturday, with nearly 3,000m of climbing squeezed into the 163.5km stage four, ahead of the final time trial on Sunday.
"Both Saturday and Sunday will be the most decisive stages," he continued. "Saturday looks like the most challenging stage on paper, I think.
"The time trial on Sunday isn't too long, 18km, but whoever is in the leader's jersey after Saturday will have to be able to do a good time trial to be able to defend the jersey. Seconds can be won or lost there."
The 31 year old has yet to record a victory in 2017 but it's not something he's worried about, admitting that he has faith in his ability to peak at the right time.
"Personally I don't need that reassurance [of winning] quite like I did in the past. I've got the reassurance of three Tour victories now to tell me that I'm able to do it again, so I don't feel the pressure to go out in the early season and perform at that level.
"Last season, doing the Tour, going to the Olympics and then onto finishing second at the Vuelta, it really did help me having a lighter racing programme earlier in the year. That's potentially something I'd be looking at again this year."
Froome finished by adding his own tribute to the late Michele Scarponi, whose loss has hit the cycling world hard over the past few days.
"The whole cycling world has been shocked by his passing and it's something that rings very close to home for a lot of people. Not just us as professional bike riders, but people who go and ride their bikes everyday. He wasn't breaking any traffic rules, he was just riding as he probably does everyday, 2-3km from his home. My thoughts and sympathies go out to his family and those closest to him."