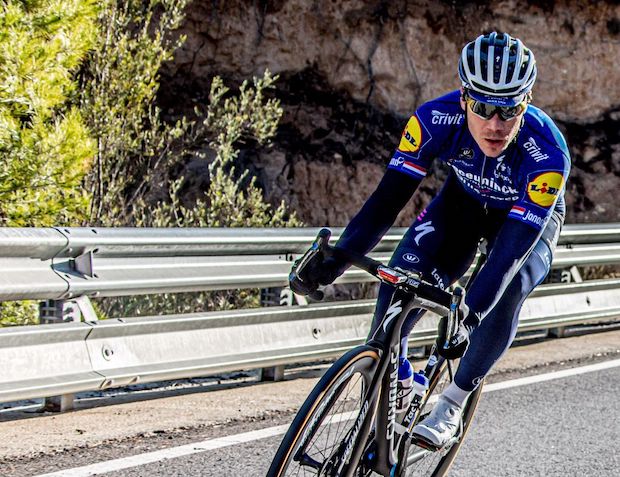 Fabio Jakobsen will make his comeback in the on Sunday in the Tour of Turkey, exactly 250 days after his horror crash in the Tour of Poland.
"I think I'll try to be a normal bike rider on the team. I feel a bit like a neo-professional now," he said. "For someone who has been out of competition for several months it's always a little bit exciting and scary, and you're a little bit nervous. I think it will be nice to be back in the bunch and get used to the flow.
"Of course, it's going to be a little bit dangerous also, but that's bike racing, and I'll have to get back the trust that I can do it. I also have to trust the racing and trust my colleagues and competitors again.
"My goal is to help the team and finish all eight days and get used to the life of a professional again – the racing, recovery, eating, get the whole system used to bike racing again, which is something that isn't the same as normal life. I'm here to get used to the life of a pro cyclist again.
"For sure, I'll be in the bunch in the final kilometre for the first time. In the past, I could do it so I hope I can still do that. In the beginning, it won't be as easy or as smooth as it was before, but I think with time it will grow."
"I'm curious to find out what the reaction of my body and brain will be," Jakobsen said. "It's step by step, so you can't expect that I'm going to be the same as I was before on the first sprint stage, and we'll see how I respond in a hectic sprint or final and why I respond like that.
"From then on, we make a plan again because being back to racing is one thing but to win again is a whole another step and the team helps me with that. I don't feel any pressure, but I'd like to try and see what happens to me.
"The base is alright and now it's about working towards the last 10-15 per cent. It's hard to do at home because we need races to improve. That's what I'm here for now – to get that balance and get that momentum again and hopefully build towards bigger races at the end of the year."