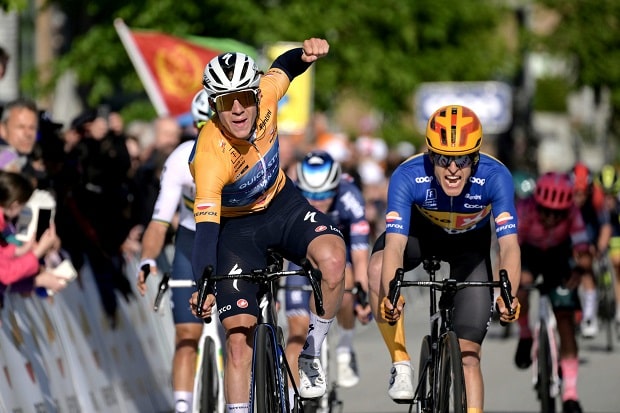 After winning an uphill sprint on the opening day of the race and taking a solo victory on the tough summit finish of stage 3, Remco Evenepoel took another win in stage 5 this time from a reduced sprint on the penultimate day of the Tour of Norway. 
On the last lap of the undulating local circuit in Sandnes, all but one of the riders in the breakaway were brought back, and this opened the door to some attacks from the chasing group on a short hill just five kilometers from home.
Evenepoel was there, taking the race by the scruff of its neck, and setting a brisk tempo that resulted in the catch being made with just 200 meters to go. As soon as this happened, the orange jersey kicked out from the small group and took his first ever victory in a sprint after a powerful acceleration on the run-in to the line.
"It was a tricky day because of the strong headwind. We didn't initially focus on the stage win, but on being in the breakaway, because we knew that a huge group would go away. Behind, Josef was amazing in the headwind, he was super strong, and deserves an extra cake at dinner this evening. On the local circuit, we rode away from the peloton, there was a small group and we pressed on so that the chasers wouldn't bridge across," said Evenepoel.
"Coming out of the last corner, I just launched my sprint and I can tell you I was surprised to take the victory this way. I worked hard and improved in the sprints, and I'm happy I could add another notch to my belt. It feels different to win like this, and I'm content with the way things panned out today and with having the orange jersey on my shoulders with only one stage to go", said Remco, who for the first time in his career scored three wins at a stage race.