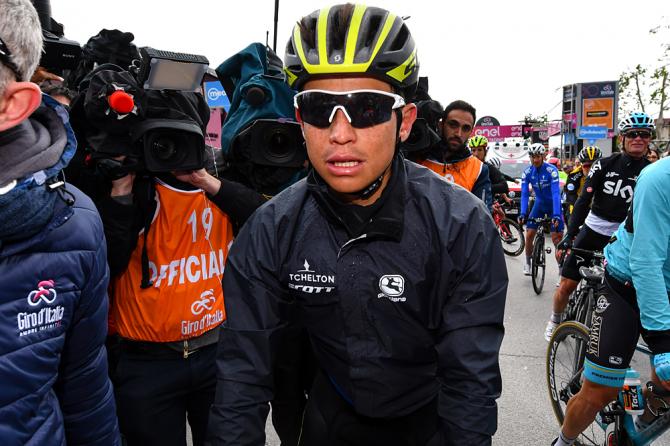 Whilst Simon Yates extended his overall lead in Giro d'Italia, teammate Esteban Chaves fell out of overall contention after losing contact with the main bunch on the first climb of stage 10.
Falling after a rest day and starting immediately uphill, the peloton was as active as ever trying to form a breakaway and catch anyone on a bad day.
Countless attacks went off the front and teams set a brutal pace, even after an initial move of 17 went away. Unfortunately for Chaves, he was caught out, and lost touch.
"It hurts. That's my general classification at this year's Giro gone, so it's always going to hurt", said Chaves.
"I have to thank the team for everything they did to try to bridge the gap, but with all the other teams working against us, we had to call it and save our legs for the bigger picture."
"Simon is still in the lead and he is looking strong. We don't have each other to play off, but we still have a strong team. Our strategy might change, but our final goal doesn't. We will pull our shoes on again tomorrow and get back to work."
"I've got a difficult relationship with Italy; it's love and hate. Just a few days ago, I enjoyed one of the best days of my career and now it's hard for my morale. But that's life, we can only do our best. The important thing is that we've still got the leader's jersey. Our plans won't change."