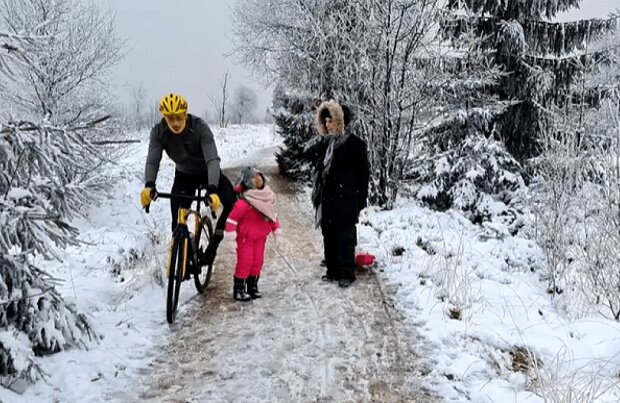 A Belgian cyclist who on Christmas day knocked over a five-year-old girl with a knee punch in the back because she did not get out of the way fast enough, has been questioned by the police.
He must appear before the correctional court of Verviers in February 2021 and risks up to 1 year in prison.
The images that girl's dad took of the incident and posted on social media caused a storm of outrage. It shows how the cyclist approaching from behind simply pushes the girl over during a walk with her parents in the snowy High Fens and then rides on as if nothing happened. The girl continued to complain of back pain and sore wrists afterwards, but fortunately she had not suffered a fracture or other serious injury.
Her dad decided to file a complaint. Police appealed to witnesses to come forward with information as the video gathered tens of thousands of views.
Then, the father of the five-year-old said he had been contacted by someone claiming to be the assailant. The man had gone on to contact police after girl's dad had refused to withdraw his complaint.
"He asked us to withdraw the complaint, but showed no regret for what he did. What's more, he accused me of being aggressive. He claimed that he had not seen that Neïa had fallen, that he would otherwise have stopped … I have the impression that he thinks it is normal."
He continued: "A lot of people tell me that I should have beat up that cyclist, but I didn't want to heat things up even more in front of my children, in front of the other passers-by. I don't want a witch hunt, just an apology."