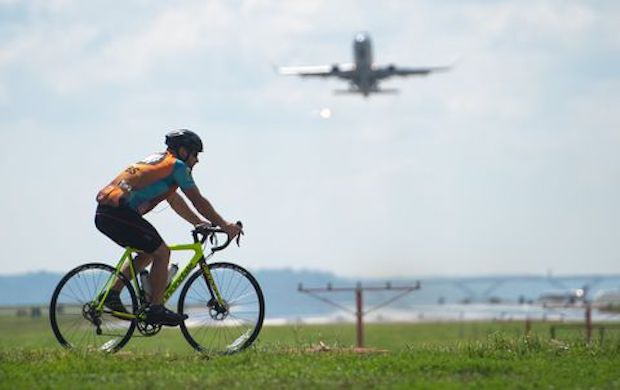 An 81-year-old cyclist is suing an airport in California after he says he was blown off his bicycle by the engine blast of a departing jet.
Ross Pepper was riding his recumbent bike near San Luis Obispo Regional Airport with a group of 14 other cyclists when he was sent flying by the gust from a jet engine.
According to a complaint, Pepper believes the plane created a thrust from the engine blast so strong that it blew him off his bike and into oncoming traffic. He also alleges that seven or eight other riders were likewise knocked from their bikes, though Dustin Tardiff, Pepper's attorney, said those riders will not join the lawsuit.
The legal action lists the airport and the county as defendants and argues each are liable because Pepper's injuries occurred on a public road, as well as Caltrans and the Federal Aviation Administration, which have oversight of the airport.
It seeks an unspecified amount in general and economic damages, as well as attorney and court fees.
"I'll just say [Pepper's injuries are] extremely extensive and it's completely changed his life," said cyclist's attorney. He added that Pepper had to spend several weeks in the hospital and in outpatient rehab, before moving in with a relative because he couldn't navigate the stairs in his own home. The formal complaint filed with the court doesn't give many details, simply listing his injuries as "severe."