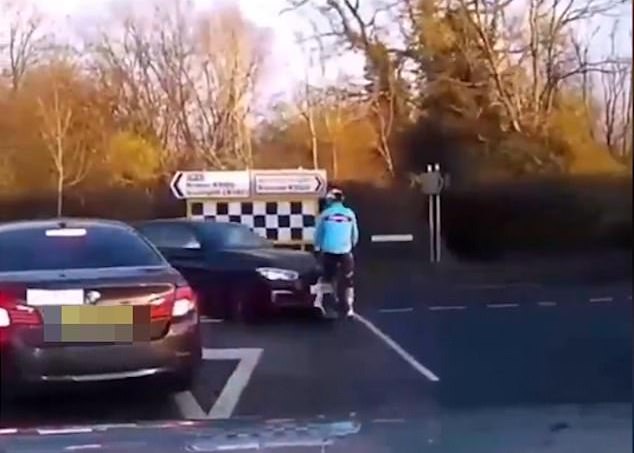 The moment a car hit Michael Rammell as he waited at a junction has been captured on a dashcam.
He was cycling near his Berkshire home when he was hit by a black BMW at a junction. Rammell said in social media posts that he was left with severe bruising in the crash.
He added: "The only scars at this point are mental. I acknowledge that I'm now nervous on the road. I'm uneasy. In time he hopes this will pass"
1: So my crash footage has been doing the rounds today. Hitting over 1,300shares on Facebook with 111k views. @theJeremyVine was also kind enough to share it too. I'm happy for it to be seen, provided it inspires a positive discussion about genuine road courtesy and kindness. pic.twitter.com/ilUVaw8l5w

— ThatBerkshireCyclist (@BerkshireCyclis) March 28, 2019
He says he decided not to pursue any legal action against the driver because he was not seriously harmed and 'it wouldn't have done anything for cyclist-driver relations'.
Writing on his Facebook page, he said: "I took the decision to remove the crash footage from this page. It simply got out of hand.
"Whilst I'm very happy that the footage has been of value to many driving instructors (lots got in touch to ask about using the footage for educational purposes), it eventually just all got a bit silly. And personal.
"It was pleasing to see so much for support for cyclists and positive to see so much encouragement and well-wishing comments, but…there were one or two that decided to take a personal swipe at me and others that were saying some pretty hurtful things about the driver too.
"It's quite chilling just how many people have no regard for road safety.