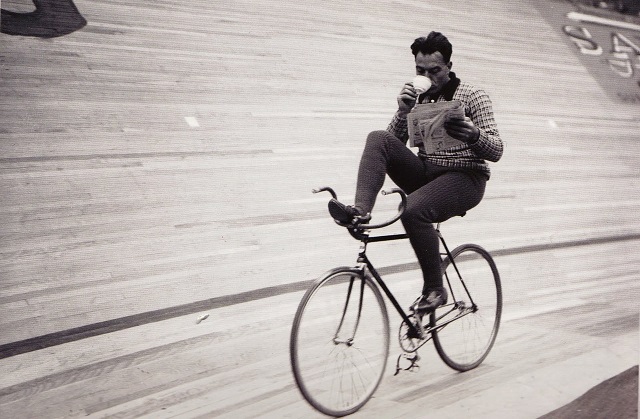 Were it not for World War II, Fausto Coppi's career might have rivaled that of Eddy Merckx
Merckx, Hinault, Armstrong, Anquetil, Indurain. The pantheon of great cyclists is led by those champions who made the grand tours their focus. Winning the Tour de France five times—or more—is the stuff of marble busts and biographies. Certainly there have been other greats as well. Rik Van Looy is the only rider to have won every single classic, a feat even Eddy Merckx didn't manage. Merckx, however, equaled his success in the Tour de France by also winning the Giro d'Italia five times. Only two other riders etched their names into the Giro's history books as often—Alfredo Binda, whose name still graces countless leather toe straps—and another whose name is accompanied by an asterisk.
Fausto Coppi professional racing career spanned an incredible 19 years. In that time he not only won the Giro five times, but he won the Tour de France twice, giving him seven grand tour wins in his career, a mark that put him in the rarefied company of just five other cyclists. So why should his career by distinguished with an asterisk?
Simple. He barely raced from 1941 to 1945. World War II robbed him of the opportunity to demonstrate the full extent of his talent for an amazing five-year span.
Reality Check
Coppi was by no means the only rider deprived of significant wins during the war. When the war put cycling on ice Gino Bartali had two Giro victories and a Tour victory to his credit. Giovanni Valetti, the two-time winner (1938 and 1939) of the Giro could easily have been expected to raise his arms in victory during that time. Sylvere Maes won the Tour de France for his second time in 1939; we've no reason to assume his career would have collapsed the next year.
It is Coppi, however who achieved the most in spite of World War II, who, undaunted, reached further than his contemporaries for challenges to burnish his record. In losing the opportunity to amass an array of wins in the years 1941 through 1945 he was deprived of the opportunity to be considered alongside our two greatest cyclists: Eddy Merckx and Bernard Hinault.
Any discussion of personal losses suffered during World War II must acknowledge the greater human tragedy inflicted on our species during that time. In addition to six million Jews put to death in Hitler's camps, we must remember that the USSR lost more than 21 million people. Seven million Germans died. Poland lost nearly that many. Yugoslavia, a country barely remembered in the war, lost nearly two million people. Half a million American soldiers gave their life during the war. Nearly every American family bears one or more ancestors who either served or gave their life during the war.
As we consider the notion of loss, of lives deprived of the full opportunity to reach expression, we must think of these people and of the acres upon acres of graves. It's worth remembering that cycling's five monuments—Milan-San Remo, the Ronde van Vlaanderen, Paris-Roubaix and the Giro di Lombardia—are called "monuments" not because of their importance within cycling but because their courses pass so many memorials erected to those who gave their lives in World Wars I and II.
So why should Coppi's interrupted career matter? Because athletic achievement can be one of the purest demonstrations of human ability, that couched within a win is the very heart of ambition and it is within ambition that we find the urge to make the world a better place. Each time Fausto Coppi raised his arms in victory after the war he reminded us of how those years, those places, could have been different.
Enfant Terrible
Not only did Coppi win the 1940 Giro, he did so as a 20-year-old phenom, becoming the youngest-ever winner of the Giro. The lost years for Coppi came, then, not as bumper years before he developed into a great rider. No, these years came when Coppi was young, hungry and curious to know the full extent of his talent. How can you not ask what a 20-year-old grand tour winner might have done as a 21, 22, 23, 24 or 25-year-old?
Any discussion that maybe Coppi's first Giro victory was a fluke can be dismissed out of hand. It's done like this: The bulk of Coppi's wins came following the war. In other words, he got better as he aged.
Coppi notched four of his five Giro victories in the years 1947 to 1953. He scored his '53 victory at the age of 33, giving him a 14-year span between his first and last grand tour victories. Consider that all of Merckx' grand tour victories were sandwiched in a seven-year span, Hinault's in eight years. Only Gino Bartali commands a similar breadth of accomplishment, with 14 years spanning his first Giro victory to his final Tour victory. Even if we factor out the five years of the war from their careers, it's worth noting that Coppi and Bartali were both grand tour winners over a nine-year span.
Hold Your Breath
Let's take a moment to consider what an impact that five-year span of time was.
Coppi was 21 years old when the 1941 season opened. The winner of the previous year's Giro d'Italia with the confidence of a dominant new champion. He won the Giro di Toscana, then the Giro dell'Emilia then traveled north to take the Giro del Veneto, followed by the Tre Valli Varesine. But in 1941 there was no Giro d'Italia, no Tour de France.
Plainly put, Coppi raced all he could, and won all he could, but faced with other great champions who refused to capitulate, he couldn't sweep the limited season of racing available to him. For example, he was served up defeat at the Circuito de Benevento and the Coppa Marin by Gino Bartali.
No Dearth of Competition
The cancellation of the Giro from 1941 to 1945 can create a false impression of no racing or next to no racing for Italian professionals. The truth is a little stranger. Most races in Italy were cancelled but two years.
Milan-San Remo was canceled in 1944 and '45. The Giro di Lombardia was canceled in 1943 and '44. Almost every race in Italy followed the example of one of those events. So while competition was thinner during 1943 and 1945, 1944 is the only year that proved to be almost without races. Of the big events in Italy, only the Italian National Road Race Championship continued unabated throughout the war; the last time the race wasn't held was 1918.
During this time racing in Italy was insular. A study of results (which, at best, often go only as deep as the podium) show only Italians participating. This contrasts with the northern classics such as Paris-Roubaix, where Belgians won the 1943 and '44 editions.
In addition to Bartali and Valetti, Coppi faced other fine competitors during this time. The history books have largely forgotten Adolfo Leoni, but in a distinguished professional career that spanned from 1938 to 1951, Leoni racked up at least one significant win each year during the war, highlighted by his victory in the 1942 Milan-San Remo. That Leoni deprived Coppi of some wins, there is no doubt; however, he was little more than a talented sprinter; the majority of his wins came in stages of grand tours. Ultimately, even a rider as talented as Leoni was no impediment to Coppi's legacy.
Leoni's accomplishments serve here to underscore the enormity of the challenge Coppi presented his competitors. In 1947, following the war, Leoni won three stages of the Giro, a great accomplishment. However, that same year, Coppi also won three stages … and went on to win the race overall.
A Single Hour
The hour record has been held by some of the great grand tour champions. Merckx, Anquetil, Indurain, and Vuelta winner Tony Rominger have all left their mark on the record books. That their names are not enjoined by those of Armstrong, Hinault or Binda helps to reveal just how daunting a challenge the hour is.
The hour record has primarily been the province of endurance track cyclists, making Graeme Obree a more traditional example of an hour record holder than Miguel Indurain. Of the 29 riders credited with setting the hour record only nine of them can also claim a grand tour victory.
Of the grand tour champions who undertook a run on the hour, most tackled the ride in the fall, following a fine performance in one or more grand tours. Merckx rode in November. Rominger's first ride was in October, his second in November. Indurain chose September. Vuelta champion Ferdi Bracke also chose October following his win in the Trofeo Baracchi, a two-man time trial, with Merckx.
Not all the grand tour champions found their hour form following a three-week race. Anquetil chose the end of June, 1956, a point so early in his career that his only significant wins had come in the Grand Prix des Nations time trial. He would win the Nations later in '56 for the fourth consecutive time. Big surprise, eh?
Lucien Petit-Breton, the first of the grand tour champions to set the hour, did so in 1905, two years before his first Tour de France victory. Similarly, Francesco Moser recorded his mark in January, seemingly as far from grand tour form as a rider might drift.
Coppi cast his mark in November of 1942. At first glance it may seem that he belongs to the group of the former riders, including Merckx. But remember, this was 1942, and there was no Giro or Tour that year. Coppi waited until November, long after the season's racing had ended.
He added but 31 meters to the five-year old mark set by Frenchman Maurice Archambaud. His mark of 45.798 kilometers works out to 28.458 miles. What is significant is how he found such incredible fitness on such thin competition. It further demonstrates what Coppi could have achieved during the war years.
Increasing Reach
As Europe rebuilt following the war, Coppi and Bartali resumed their intense rivalry in the grand tours. In 1946, Bartali won his third and final Giro. In 1947, Coppi took the Giro for his second time. In 1948, Bartali won his second Tour de France, a stunning 10 years following his first victory, the longest span between wins of any rider. And while Coppi didn't win any grand tour sin '48, he roared back in 1949, taking his second Giro and first Tour.
Indeed, all of Coppi's wins that occurred outside of Italy came as Europe opened up following the war. While Bartali did enter races outside of Italy other than the Tour de France—he won Zurich-Metzgete twice—he stuck to a primarily Italian program. Coppi ventured further afield, notching such notable wins as Paris-Roubaix and Fleche-Wallonne, both in 1950. And while plenty of riders through the '60s and '70s would win one or the other in alternating years, only three riders did the double in the same year. The first was Marcel Kint in 1943. The second was the 1960 double by Pino Cerami. Naturally, the only other rider to manage the feat was Eddy Merckx in 1970.
Today, winning both is unheard of. Bernard Hinault was the last to notch both races in a career, taking Fleche-Wallonne in '79 and '83, with the '81 Paris-Roubaix sandwiched in between.
A Rightful Place
Eddy Merckx won 11 grand tours and 19 monuments (all five at least twice). Bernard Hinault won 10 grand tours and five monuments. Third on the list of the world's great champions is Jacques Anquetil, with eight grand tour victories but only a single victory in one of the five monuments, which came in 1966 at Liege-Bastogne-Liege.
Coppi's seven wins in grand tours are accompanied by nine victories in the monuments—three at Milan-San Remo, his single win at Paris-Roubaix and a record-setting five wins at the Giro di Lombardia. Add his four victories as the national champion of Italy and his one world championship in 1953 and we have a portrait of a rider more complete in his mastery of cycling than Anquetil, a rider who could win on any terrain, any time of the year.
Five years. We can never know what might have been, but in knowing what he did, we can imagine the wins of which he was capable.