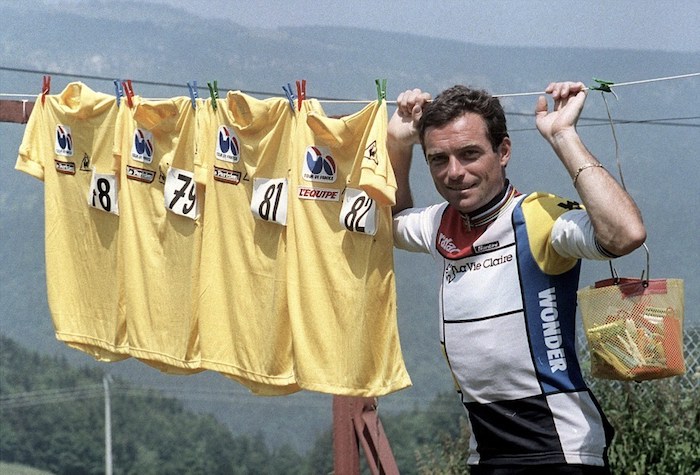 Bernard Hinault is arguably the second greatest cyclist of all time behind non-pareil Eddy Merckx.
His palmares is a roll call of cycling's great races. 5 times winner of Le Tour de France, 3 times winner of Giro d'Italia, 2 times winner of La Vuelta, 3 times winner of the Dauphiné Libéré, World Champion, winner of Paris-Roubaix, Liège–Bastogne–Liège, La Flèche Wallone, Amstel Gold Race, the Grand Prix des Nations, Gent-Wevelgem and a host of other races in his career.
Hinault was nicknamed Le Blaireau (either "the shaving brush" or "the badger"), as he would often do a hairband, thus resembling a shaving brush. However, his nickname is typically translated as "badger" by Anglophone cycling commentators and enthusiasts.
In an interview Hinault said the badger nickname had nothing to do with the animal. He said it was a local cyclists' way of saying "mate" or "buddy" in his youth – "How's it going, badger?" – and that it came to refer to him personally.
According to Maurice Le Guilloux, a long-time team-mate of Hinault, he and Georges Talbourdet first used the nickname when the three riders trained together in their native Brittany in the early years of Hinault's professional career.
It was a trait that saw him lash out at protesting shipyard workers who had stopped the 1984 Paris-Nice while demonstrating on the Col d'Eze. On another occasion when protesters blocked the route Hinault rode at them full tilt, regardless of any risk of injury to them or himself.
Bernard Hinault was one of the greats who practically defined a generation of bicycle racers, like Coppi, Anquetil, or Merckx. Right on the heels of the "Merckx Era" came the "Hinault Era." Though his dominance wasn't quite as complete as that of Merckx, it's still a good comparison.
Hinault was a "boss of the peloton" or Patron. He was prominent in a riders' strike at Valence d'Agen in the 1978 Tour to protest against split stages, in which the riders had to ride a stage in the morning and another in the afternoon. He also imposed discipline and often cooperation among riders, once famously decreeing that "there will be no attacks today because tomorrow's stage will be difficult".
He was respected by riders but feared by many for his temperament. If he felt slighted by another rider he would use his strength to humiliate the offender. To the public, Hinault was often arrogant, remote, and shy of publicity. When an interviewer suggested he devote more attention to fans, Hinault replied, "I race to win, not to please people".
After retiring from professional racing, Hinault went back to his native Brittany to spend time farming. He also worked for Amaury Sport Organisation, othe group that organizes the Tour de France, as well as a number of other racing events.