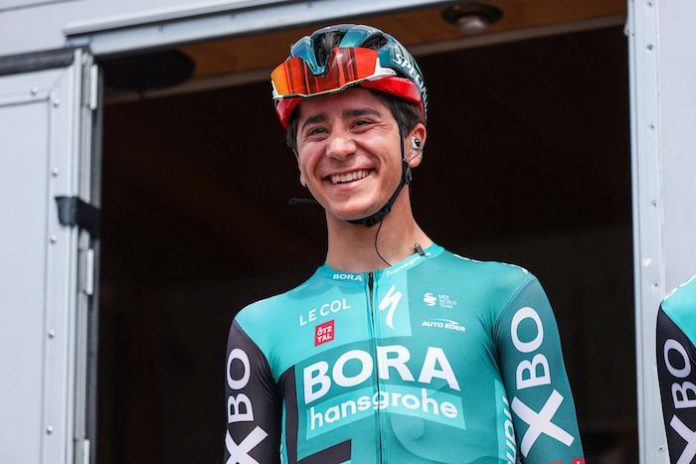 Cian Uijtdebroeks grows in the shadow of Remco Evenepoel, but the 20 years old Belgian will try to impress later this year when he will make his grand tour debut at the Vuelta a Espana. 
Uijtdebroeks became a professional at Bora-hansgrohe aged 18. Growing slowly and carefully was the motto, but it now appears that the Belgian is developing at lightning speed.
"It has been fantastic, so far. Okay, Remco (Evenepoel) maybe won at that age, but I was very happy that I was able to ride a top 10 in Catalunya," Uijtdebroeks says.
"It's nice that I can already go between those names and that I can survive those long climbs. It was a competition of such a high level… That says something for the future."
"If I improve, I will really be able to fight for victory in those races. Will I ever reach the level of Remco or Roglic? That is still the question, but I would really like it if I could take a few more steps and ride around like a Joao Almeida, for example. That would be fantastic," says the Belgian.
"It is very nice that I'm moving in the direction of a GC rider. That has always been the dream, and it is nice that we can work in that direction", said Uijtdebroeks, who knows that his status within the team will also change. "You start to have a slightly better position in the team. That is also important, that you get a little more support around you."
"But there are still guys who have proven much more, and that will stay that way for a while. I'm going to have to win a few more race!"
Many eyes will be on Uijtdebroeks' debut in the Vuelta this fall. According to him, that will not be comparable to the races of a week that he already rode.
"Of course that is three weeks… It also depends on which role I will get within the team. But I would actually like to go for it, if it were up to me," he says.
"If I could choose myself, I would take it day by day, without too much pressure, but try to go for a GC. I also know that top 5 is going to be terribly difficult. But if we could do in three weeks what we did in Catalunya in one week, that would be fantastic".