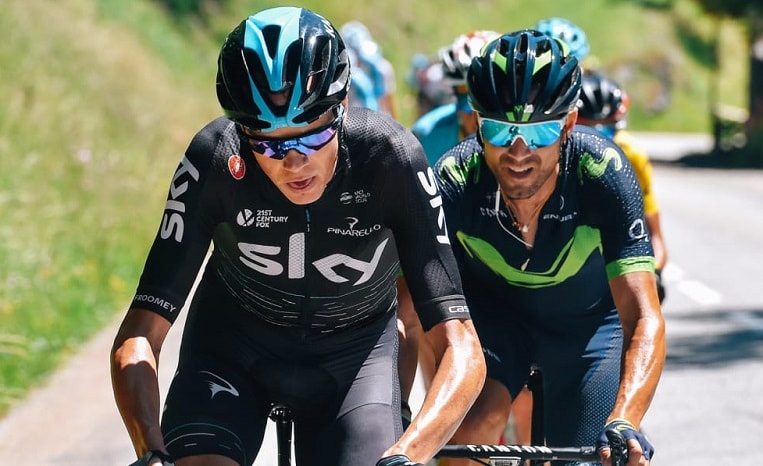 Chris Froome says that he has 'unfinished business' at the Vuelta a Espana, where he returns aiming to become just the third rider to win both the Vuelta and Tour de France in the same season.
Only Jacques Anquetil and Bernard Hinault have previously achieved the Tour/Vuelta 'double', a feat no rider has accomplished since the Vuelta a Espana was moved to become the last of each year's three Grand Tours back in 1995.
There will be a strong Team Sky lineup when the race kicks off with a team time trial in Nimes on Saturday 19 August – Chris Froome, Wout Poels, Mikel Nieve, Diego Rosa, David Lopez, Gianni Moscon, Salvatore Puccio, Ian Stannard and Christian Knees.
The four-time Tour de France champion says that the team's approach to this year's Vuelta has given him reason to be optimistic about his chances of back-to-back Grand Tour victories.
"It certainly feels as if I've got unfinished business with this race. I've finished second three times now, but I've got a good feeling about this year's Vuelta. It feels like we're on much more of a mission this year, and aiming for the Tour/Vuelta double this season has been a huge motivation.
"I don't think we've been to the Vuelta a Espana with a team as strong as we've got this year."
"It's a race I love doing, but it's relentless. The course is always a lot more mountainous than the Tour de France and the conditions are tougher. Being mid-August in Spain, it's quite common to have temperatures up in the mid 40s. It's absolutely brutal.
"One thing that really sets the Vuelta apart from other races is where it is in the season. You have this mixture of riders who have targeted the Vuelta specifically, and others who are coming off a big season already.
"Typically, it's a very aggressive race and a very punchy style of racing, which always makes for great viewing for the fans."