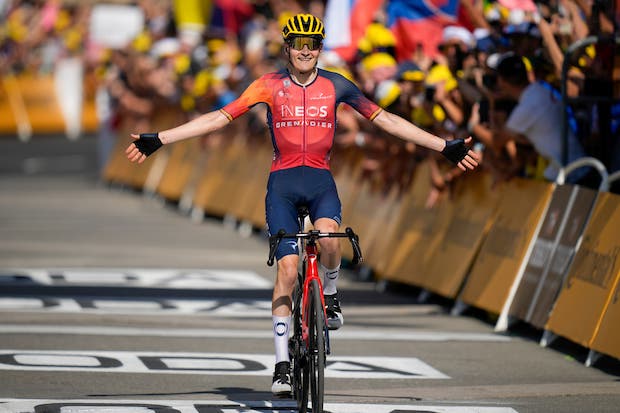 Even on the toughest battleground, defending champion Jonas Vingegaard and two-time winner Tadej Pogacar could not separate themselves Saturday after a dramatic day in the Alps at the Tour de France.
Again in a class of their own, Pogacar and Vingegaard finished second and third respectively at the ski station of Morzine after another fierce fight that concluded a day of attrition in the 14th stage.
The pair was well ahead of their struggling overall challengers at some point in the final ascent, the daunting Col de Joux Plane, but allowed stage winner Carlos Rodriguez to come back as the duo watched each other like track cyclists in a velodrome, waiting for an opening to get the biggest bonus at the top of the steep ascent. Vingegaard won this duel.
Rodriguez, a Tour debutant, then moved away from the pair in the downhill leading to Morzine.
Vingegaard kept the yellow jersey, increasing his overall lead by just one second to 10 seconds after Pogacar sprinted to secure second place in the stage. Rodriguez moved up to third place overall – 4 minutes, 43 seconds behind Vingegaard – after his first Tour stage win.
Rodriguez had trailed by more than one minute but made the most of the pair's duel to prevail.
"I didn't think it was possible when I got dropped in the Joux Plane," he said. "I tried to climb at my own pace to later do the descent as fast as possible. I am a good descender, I wanted to take advantage. I was close to crashing a couple of times … I took some risks."
Rodriguez became the youngest Spanish stage winner in the race's history at 22 years, 5 months, 13 days.
Vingegaard amassed a total of 12 bonus seconds for first place at the top of the climb and his third-place finish. Pogacar had 11, second at summit and second-place finish.
"It's going to be really tight," Pogacar said after the stage.
The 179-kilometer 15th stage to Saint-Gervais Mont Blanc on Sunday is another difficult trek with a mountaintop finish before Monday's second rest day.
⏪A great downhill that followed an even greater climb. It was a dream for @_rccarlos as he wins in Morzine. The final km ⤵️

⏪Une énorme descente qui a suivi une montée encore plus folle. C'était un rêve pour @_rccarlos qui s'impose à Morzine. Le dernier km ⤵️#TDF2023 pic.twitter.com/P7SSf7Td6e

— Tour de France™ (@LeTour) July 15, 2023