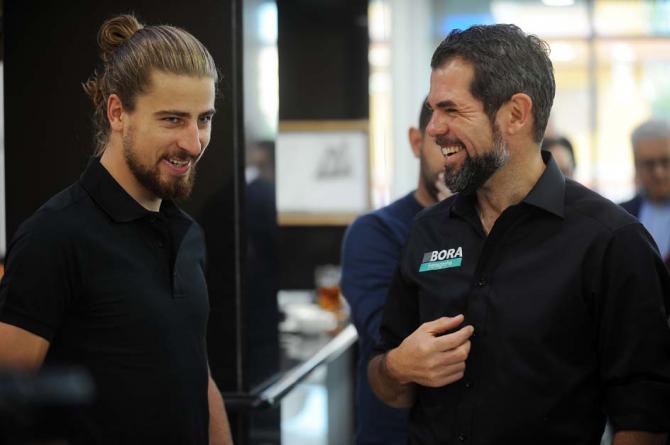 During the first training camp of the season, the new WorldTour team BORA – hansgrohe, presented it's official team kit for the 2017 racing season.
The team from Raubling, Germany has set ambitious goals for itself for their first season in the UCI WorldTour. Along with BORA, who are now entering their 3rd season as main sponsor, the new title sponsor hansgrohe and the new partner Specialized enabled team manager Ralph Denk to build a strong group of riders around UCI double World Champion Peter Sagan.
"At the first team meeting in October I said that this is going to be a new adventure for all of us. Like Bora is working hard on their cooking revolution, I think with this team we can start a revolution in cycling. For me it is key to have backing from the team and at BORA – hansgrohe I felt comfortable right from the beginning.", Peter Sagan said.
"I am very happy to be back in the team that gave me the opportunity to turn pro. Obviously, a lot of things changed since I left. Bora – hansgrohe will be one of the biggest World Teams and I am impressed how Ralph manages that significant growth in all the management areas. I also look forward to have a lot of young guns next to me like Emanuel or Patrick. We have ambitious goals, but also a strong roster for 2017.", said Leopold König.
"Both of us, Leo and myself, can lead a team in a Grand Tour. I will focus on the Tour and the Vuelta next year. At the Tour, with Leo, myself but also with Peter, we can play a big role. For Bora – hansgrohe it will be important how all the new riders can integrate themselves in this new team, but what I saw until now makes me confident that we find the right team spirit very fast.", added Rafal Majka.
"Since 2015, when Bora entered their first season as main sponsor with us, our clear plan was to become a World Team. I already said at the beginning of this season that I think that the Grand Départ 2017 in Düsseldorf is a window of opportunity for German cycling. Together with our new title sponsor hansgrohe and new partner Specialized, we have been able to put together a world class cycling team. With the double UCI World Champion Peter Sagan we have one of the top stars for the first part of the season. For the Grand Tours we have Rafal Majka and Leopold König as key riders. Still the team will also support German speaking talents.
This step up to the UCI World Tour means also a lot of changes on the management side. 2016 the team had about 45 employees, now we are up to 75. I think we improved in all areas. What remains is our claim "ride.natural.", besides a healthy diet and lifestyle, respect and fairness are core values of Bora – hansgrohe.", said the team manager Ralph Denk.