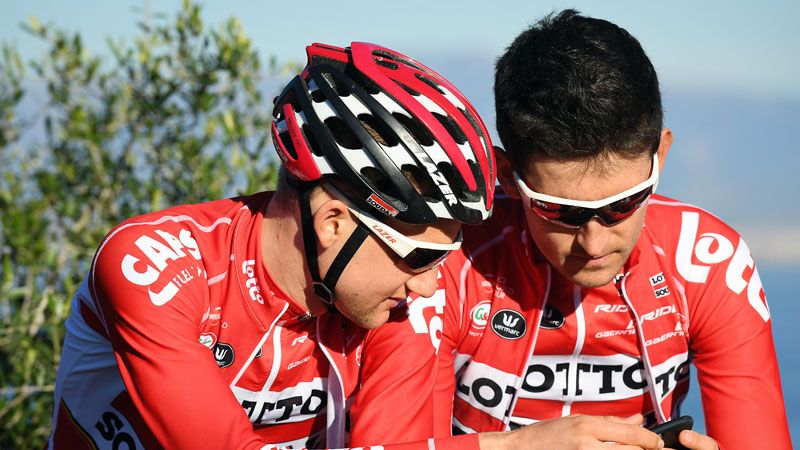 You can follow Strade Bianche this Saturday LIVE at Cycling Today.
The beautiful Tuscan landscape will be the scenery for a rough battle between a range of top riders this Saturday at Strade Bianche, a race that is part of the WorldTour as of this season. Tiesj Benoot and Tim Wellens will lead Lotto Soudal team in the Italian race. Benoot finished eighth at his debut last year and told he would be back for more. Wellens will participate for the first time and he immediately wants to set a good result.
The Strade Bianche starts and finishes in Siena. After 175 kilometres the winner can step on the podium on the Piazza del Campo. On the route lie eleven white gravel sectors, that's why the race is called Strade Bianche. The longest one is sector five. That one is 11.9 kilometres long and is immediately followed by a sector of eight kilometres.
After about ten kilometres without gravel roads the riders reach the seventh sector. With a length of 9.5 kilometres this is the third longest sector. The second longest sector is sector eight: Monte Sante Marie (11.5 km). This sector ends at 42.6 kilometres from the finish. Then three sectors are left that are not longer than 2.5 kilometres. In the last twelve kilometres there is no gravel anymore. Many of the gravel sectors are uphill and shouldn't be underestimated. At the end of the race there is a tough climb towards the Piazza del Campo with a peak of 16%!.You really have to earn the victory at Strade Bianche.
"I want to do better than the eighth place of last year. My condition is as good, maybe even better. I now also have the experience of the previous edition, like knowledge of the course and an idea of the necessary tyre pressure. And I am one year stronger. It was a wonderful experience last year and the Strade Bianche has earned a place in my top five of favourite spring races. It's a race where the specialists of the Flemish and Walloon Classics compete against each other and that doesn't happen often. It's an impressive start list and it's a race on the highest level", said Benoot.
"The first crucial moment last year was when we rode on the fifth and sixth sector. The sixth one follows quickly after the fifth and together they are twenty kilometres long. Cancellara, the winner of last year's edition, took off on a sector of 2.5 kilometres with less than twenty kilometres to go. That was an uphill sector and that climb was really hard. It is very likely that that sector will be crucial again. Unless there is a lot of wind on Saturday. Those open fields in Tuscany are perfect for echelons."
"It is important to save energy as long as possible. The gradients of the gravel sectors make the race really hard and the finish in Siena is very steep. If a group arrives at the finish, the strongest will definitely win. At Lotto Soudal we are with two leaders for the race. I hope that Tim and I can ride a beautiful finale together."
"I am very excited! It will be my first WorldTour race of the season and I want to achieve a good result. I already won three times this season, so I am relaxed to start the race. I have never ridden Strade Bianche before, but when I look at the course it should suit me. I changed my race programme to ride Strade Bianche. I won't participate in Paris-Nice because it's not possible to combine both races and will take the start at Tirreno-Adriatico next Wednesday. That way I will also get to know that race", said Wellens.
"But first, my debut at Strade Bianche. As U23 rider I rode the Tour of Tuscany and there was one stage over gravel roads. I liked that and was very good that day, but I punctured on a gravel road at three kilometres from the finish and I lost the overall victory to Fabio Aru. Luck will also be a factor this Saturday and you can't influence that. Riding on gravel can't be compared to riding on cobbles. You need to pay extra attention in the corners and adapt your speed because you slip more easily on gravel. It will also be very nervous on the way to the sectors, with everyone wanting to be in the best position. I am not afraid of that, the teammates will protect me too."
"Friday we will do a recon of the last thirty kilometres. Then I can see the finish in Siena with my own eyes. It's also good to get the feeling on the gravel roads before the race and to test the material so we know which type of tyres to use."
Lotto Soudal line-up for Strade Bianche: Tiesj Benoot, Sean De Bie, Bart De Clercq, Nikolas Maes, Tomasz Marczynski, Maxime Monfort, Jürgen Roelandts and Tim Wellens.