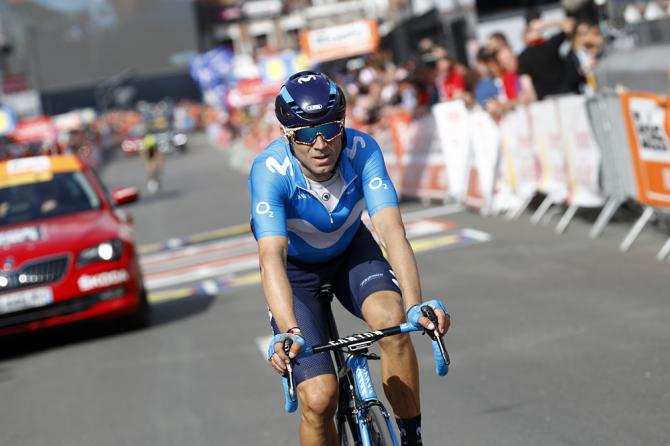 Alejandro Valverde looked like one of the strongest riders out in the chase group today during Liege-Bastogne-Liege, attacking numerous times to try and bridge to Jungels, but the Spaniard was a closely marked man by Julian Alaphilippe.
"I don't know if it was as a result of the heat and humidity. I was fine when the race was going at a normal pace, but when I wanted to give it everything, I couldn't push as hard on the pedals as I'd have liked." Valverde said.
"If I'd been going well, I think I would have been stronger than the rest of the group, but I couldn't give anymore, and when I saw I had no options, I just eased back and rolled into the finish.
"I tried to counter-attack after Jungels went away, but I was very closely marked."
"We always gave it everything, and with these results, people should be more aware of how difficult it is to always win."
"Alejandro did well, but some of our riders we hoped could have done better and been up there were really cramping up at the end and we couldn't close that gap [on Jungels]," Eusebio Unzue said.
"Jungels amply deserved his win, he's a great champion and Quick-Step did a great job collectively. "
"Alejandro was alone, and we couldn't do more than what we did. He tried his best as hard as he could, but finally seeing that he couldn't fight for the victory, he sat back and let it all go in the last few metres.
"Quick-Step, collectively are in a great condition as they have been in all these Classics, and they've been able to take advantage of their strength in numbers, and when it's not one of their riders that goes off the front, it's another.
"But in any case, Alejandro did a good Liège, in my opinion. That he didn't win, and you can't do that every day, helps people understand just what he's achieved.
"Ever since 2006, 13 Lièges on, he's still up there. And that's to his immense credit. Even being a favourite, let alone winning, for so long puts him in a class of his own."