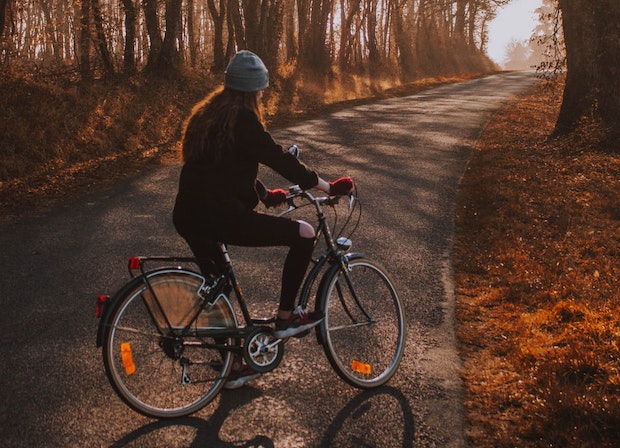 The act of using cycles for transportation, recreation, exercise, or sports is termed bicycling. Bicycling may include the use of many forms of cycles like unicycles, tricycles, quadricycles, and recumbents, although bicycles are the most common form. It is the most economical and environmentally-friendly form of transportation. Among other usages, bikes have been used as the best way to get around campus since it is an economical and eco-friendly manner to travel. Students find it easier to commute, maneuver, and park inside school or college instead of using their motor vehicles. However, before enjoying biking in college, one must learn some measures to make their commute safe and sound.
Bicycling has many benefits to both physical and mental health. One of the many benefits includes focus shifting and stress relief, which is very important for students. Students often struggle with managing stress while working on the assignment and coursework assigned at the university. Scholars who are at the edge of their mental health and looking for relief may benefit from referring to writix.com for coursework help from UK professionals. While services with its expert writers work on your assignment, you will be free to focus on other tasks at hand and freshen yourself. The online portal provides you service of various custom papers as well.
Bicycling is a great experience, especially inside campus or university. Biking in college carries more importance than you've thought. Some of them are:
Saves your money

Protects the environment

Quicker access

The best exercise to stay fit

No parking Hussle
To obtain numerous benefits, you should first explore biking to school tips and follow them correctly. Some tips for bicycling on campus include:
Own your bicycle
 Instead of biking your friends' cycle, buy your own, or rent one yourself. Having your bicycle makes it easy for you to bike whenever and wherever you desire. Also, try not to share your ride with your friends and other mates. People don't often care for others' objects, and as such, they may ride it ruthlessly. It's best to keep your prized possession to yourself. 
Maintenance
 Bicycles are full of numerous mechanical parts. Many parts require maintenance after some time as they are subject to wear and tear. It's best to check them regularly. Always keep your ride clean, tighten the nuts and bolts frequently, check on the brakes regularly, keep the chain lubed, ensure the correct air pressure on tires, and make sure nothing is wrong to ensure your trustee ride doesn't break down. 
Safety
Although it doesn't have a motor, it's still a vehicle. With enough speed, it can hurt you or others seriously. So, it is essential to prevent any such incidents. Here are some safety tips needed while riding on a campus: 
a) Put on a helmet and gloves
b) Follow the traffic lights and rules
c) Consider foot traffic (pedestrians) while riding
Be careful
Riding a bicycle requires skill, balance, coordination, and attention to surroundings, in short – multitasking. Although it may seem like an easy task due to regular practice, many things can happen without your realization. So, it is crucial to be very careful of all factors while riding. Also, being sober while riding is best, as alcohol or any other intoxication can cause fatal accidents.
Park and lock
While riding inside a campus, it's a good practice to park your bike in a proper parking place before entering the class. Lock-less parking may lead to the theft of your ride. Installing a lock in your bike and parking it in the appropriate spot is necessary to prevent it from stealing and unauthorized use.
Use of bike accessories
The use of bicycle accessories can enhance the rider's experience in many different ways. Although there are numerous accessories available in the market, you should possess the ones that can make your ride safer and more comfortable. Some of the essential accessories include light, sidelights, mirrors, reflectors, backpacks, water bottles, horn, and similar.
Bicycling has benefitted the students in various aspects of their physical and mental health. Since the 19th century, riding bikes for college campuses has always been exercised throughout the UK's academic institutions. There are several 80s high school TV shows that students can watch, which promote cycling on campus. Such shows help them realize the difference between what was and what is and can help broaden their minds. 
People look to biking as a fitness activity, and a means to commute to work or their place of study. Students seeking to own an affordable bike for their assistance may find one without having to pay a heavy price.